When Ntimama traced his origins in Meru in 2009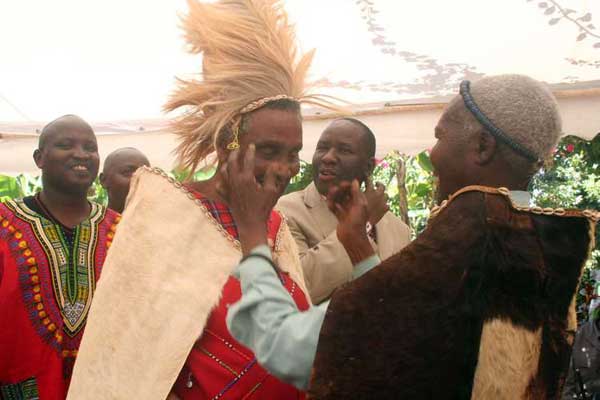 He has made enemies and friends for decades as he aggressively campaigned in defence of the Maasai and their rights.
He was even known to chide specific rival leaders from his community, whom he considered weak, as not being pure Maasai.
He astounded friends and foes in his campaign to push the Maasai to ignore family planning and bear as many children as possible to raise the community's numbers.
But be that as it may, rumours had done the rounds over the years that the self-declared King of the Maasai had roots in the Mount Kenya region, although he was known to hold with much contempt men from one of those communities, something he had not bothered to hide.
He never came out to quash or comment on the said roots.
So it came as a surprise when, in April 2009, the then 81 year old William Ronkorua ole Ntimama travelled to Imenti Central, Meru, for a homecoming and confirmed that, indeed, he had gone to reconnect with his people.
"It is very clear to me now that I have some very strong Meru roots,'' said the then burly Heritage minister.
"I was in Meru to reconnect with and talk to the villagers,'' Mr Ntimama said in reference to residents of Katheri Village, where he was born of a Maasai father and a local woman known as Wanja.
But he told this reporter in an interview then that it was still not very clear in his mind whether Wanja was a pure Meru or of mixed heritage since he was still a baby when the parents relocated to Narok.
"The fluency with which she spoke Kimeru tells me that she was Meru. However, I did not get the opportunity to find out the real position from her because she died when I was still too young,'' he said, pensively.
The veteran politician said he was also not sure of his birth date, whether it was in late 1929 or in 1930.
To emphasise his resolve to unite with his kinsmen, Mr Ntimama invited them to his home in Narok and a group of about 100 people, mainly from Katheri in Meru, later travelled there.
The King of the Maasai looked uncharacteristically emotional as he retraced his footsteps to the dusty Katheri Village.
He was welcomed by then local MP Gitobu Imanyara at a colourful ceremony conducted by the revered Nchuri Ncheke elders and attended by, among others, Paul Muite, the former Kabete MP.
The village lies on the slopes of Mt Kenya, covered in lush coffee and tea bushes, a sharp contrast with the setting in Narok North constituency, where he was brought up and served as Member of Parliament and where livestock rearing is the main economic activity.
Prior to the ceremony, the elderly minister toured the expansive district before attending a colourful "homecoming" ceremony at Katheri High School, where he said he had relatives in Meru.
"I have my roots firmly lodged here in Meru. I was born here in Katheri 81 years ago but I left before I could walk. I have come to retrace my steps", said the then ODM MP. Mr Ntimama told the excited gathering that his family had fled inter-clan fighting in Maasailand in the 1900s.
At Ruiga Village, he greeted the residents gathered at the home of Mzee M'Rukunga John Kithingiri in the local Kimeru dialect, "Antu ba Meru muugeni? Muugeni kairi? (How are you people of Meru? I greet you once more)."
He said his clansmen had travelled from the southern side in search of pasture when they were attacked by their rivals from Laikipia forcing them to take cover in the Mt Kenya forest.
"My clan was attacked by the Purko clan from Laikipia and my father and his clansmen were forced to retreat and hide around Mt Kenya.
It is then that my father and other morans settled in Katheri about 100 years ago," he said.
SHARED NAMES
He went close to confirming rumours that his father had married a girl from Katheri with whom he bore Mr Ntimama and other children during his long stay there.
"Today I came to explain myself and say I am one of your sons. My mother blood is here and I will always be part of you. I have strong ties (with Meru) that exceed political party ties", he told elders gathered at the Njuri Ncheke shrine at Nchiru in Tigania West.
The Njuri Ncheke function was also attended by then Energy minister Kiraitu Murungi, who is now Meru Senator, assistant ministers Kareke Mbiuki (now Maara MP) and Dr Kilemi Mwiria (now advisor in the Office of the President) and Igembe South MP Mithika Linturi.
Mr Ntimama was accompanied by now MP Moses ole Sekuda and about 100 of his constituents.
Njuri Ncheke national chairman Paul M'Ethingia suggested that the minister's name Ntimama, when pronounced in Kimeru, means "I will not sleep".
Mr Ntimama said there was a striking similarity in names between the Ameru and the Maasai communities, such as Nkirote, a girl's name shared by both communities.
Seven elders from Abonchenge, led by spokesman Peter Mbijiwe, welcomed the king of Maasai politics, saying he was born in their homestead.
Mr Ntimama claimed that, in the 1800s and early 1900s, the Maasai population was nearly as large as that of their neighbours the Gikuyu.
But their numbers declined drastically as the community engaged in many wars, mainly inter-clan, and were also decimated by famine since they could not grow crops, as well as by diseases such as smallpox, not to mention rinderpest that killed their cattle.
He said that the Purko clan living in Laikipia was the most feared not only among the neighbouring communities but also by other Maasai clans.
It is then that a coalition of Maasai clans attacked the Purko clan and exterminated them.
"Everybody ran in search of shelter. Nearly half of them ran into Meru forest and found the Meru very friendly. They lived there like refugees and there was food. My father was among the people who ran away after the war between the Purko and a coalition of Maasai", said Mr Ntimama.
He said that later, after he was born and calm had returned, his father decided to return to Narok, suspecting they had relatives among the Purko. He was then adopted by the Purko on his return.
The minister promised to help refurbish Katheri Mixed High School, which would then be renamed Ntimama Girls' High School.
He was then twice declared a Meru elder, first at Ruiga by Mzee M'Rukunga and then by Njuri Ncheke chairman Mzee M'Ethingia at the Njuri Ncheke shrine and baptized "M'Marete" (the generous one).
The Heritage ministry was to also consider erecting a monument in honour of the slain Mau Mau hero Field Marshal Baimunge, who hailed from the same village.
His official-cum-self homecoming tour saw him visit a privately owned museum at the home of Mzee M'Rukunga at Ruiga before presiding over the elevation of the Njuri Ncheke shrine at Nchiru market in Tigania West into a national monument.
He gave a glowing tribute to the Njuri Ncheke government, hailing it for withstanding the sands of time and and "remaining as the best organized group of elders in Kenya today."
"They have been dealing with their culture and heritage of their own people, have survived the ravages of colonialism and local politics and clannism, they have stayed together and even built a shrine and continued to strengthen their cultural heritage."
His ministry also donated Sh1 million towards refurbishing the shrine and pledged to continually assist the Ameru. Mr Ntimama was, however, disappointed after failing to trace any possible living relative.
He was not shown any homestead either.
But Mr Ntimama used the forum to call for unity among the various tribes in the country and urged politicians to shun tribal alliances.
Meru elders, led by Mr Imanyara, promised Mr Ntimama that they would tour Narok North "to see how the Maasai were taking care of their son".
-nation.co.ke