Chaos Erupt in Mashujaa Day Celebrations in Mombasa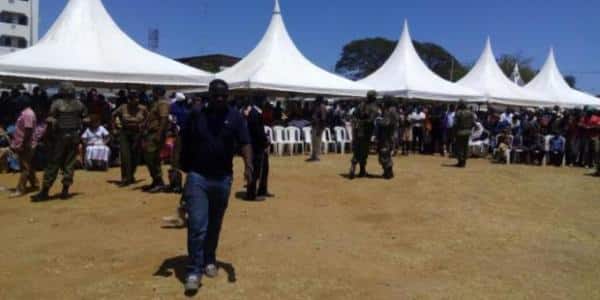 Mashujaa Day celebrations were on Thursday disrupted at Tononoka Grounds in Mombasa County when two rival groups collided.
In a report by NTV the fight was between President Uhuru Kenyatta's Warembo na Uhuru and Mombasa GovernorHassan Joho's Joho Queens. The two started heckling each other bringing the event to a standstill.
Police officers were forced to move in and calm the situation so that the event could continue. Mr Awiti, who had cut short his speech, luckily managed to finish when peace was finally restored.
Citizen TV, however, indicated that the conflict was between Joho's group and Nyali MP Hezron Awiti.
The Mashujaa day celebrations continued in various counties across the country with the main one led by President Kenyatta taking place in Machakos.
During his speech President Kenyatta called for unity in the country urging Kenyans and leaders in particular to move away from politics based on ethnicity and division.
He said history would judge the current generation of Kenyan leaders by how well they play their role in embracing unity and entrenching the new system of Government that was ushered in by the new Constitution.
"My generation of leaders must realise the promise of this new Constitution. We must entrench devolution; we must restore the unity our fathers attained," he said.
The Head of State cautioned Kenyans not to be deceived by the ugly rhetoric from politicians as the country approaches the next general election. He called on Kenyans to instead focus on unity, cohesion and prosperity.