REVEALED: Football Incident that Forced Moi to Endorse Uhuru for Presidency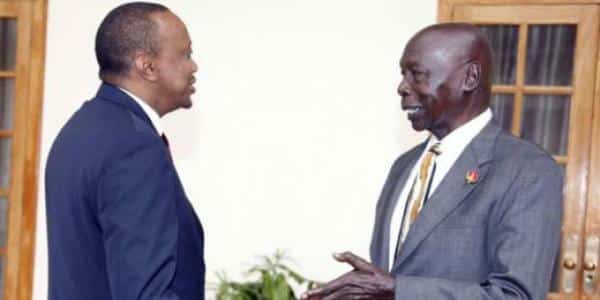 Many were surprised when former President Daniel Arap Moi endorsed the current Head of State Uhuru Kenyatta as the Presidential flagbearer for KANU in 2002 at a mere age of 40 years.
His announcement forced Raila Odinga, Kalonzo Musyokaand the late George Saitoti to move out of KANU and partner with Mwai Kibaki, later forming NARC which went ahead to win the election.
Unknown to the public, a football match compelled Moi to endorse Uhuru his successor. In a publication titled New African 2002, a story is told of an incident in Gatundu, Kiambu County, where Moi had gone to visit Uhuru's father Mzee Jomo Kenyatta.
A young Uhuru was playing football and upon noticing the arrival of Moi – he hit the ball in his direction.
As Moi received the ball, Mzee Jomo Kenyatta told him: "You see the boy has passed the ball to you – a time will come when you have to reciprocate the boy's gesture."
As fate would have it, Moi ascended to the throne a few years later after the death of Mzee Kenyatta.
In 1992, Uhuru supported Matiba who had been his mentor but that did not stop Moi's hope in Uhuru.
After the elections, Moi – through Mama Ngina Kenyatta – pulled Uhuru from the family business and thrust him into the field of politics.
In 1997, Uhuru vied for the Gatundu South Parliamentary seat but lost. It was a disappointing time for Uhuru after he failed Moi's first pass.
Moi still believed in Uhuru, he gave him a decisive second pass, this time nominating him to Parliament and appointing him to the Cabinet and later in 2002 endorsed him as his successor. This was the ultimate pass that landed the ball firmly on Uhuru's foot, allowing him to play confidently in the National political pitch.
Moi's dream came to pass after Uhuru was elected the 4th President of Kenya in 2013 under the Jubilee coalition.