VIDEO:THE 'HARD' WORD PRESIDENT KENYATTA COULD NOT PRONOUNCE-VITRIOLIC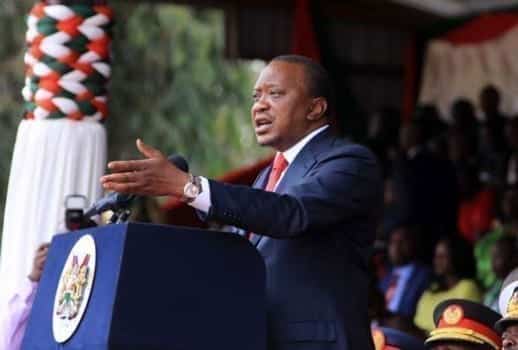 For all the numerous speeches that he has read, it appears that President Uhuru Kenyatta is not that eloquent after all.
During the Mashujaa Day celebrations in Machakos on Thursday, the president was at pains to pronounce a word in his written speech and promptly skipped the 'hard' word.
In the middle of his speech, the president came across the word 'vitriolic' which he didn't even attempt to pronounce only mumbling, 'hiyo ngumu sana' (that's too hard), before proceeding with the speech.
"Our unity is not complete: we remain divided by ethnicity; the faults of the past still haunt us; and our politics, as we have seen today, is too…  hiyo ngumu sana," President said during his speech which was televised on all major stations"
According to the dictionary, the word vitriolic is an adjective which means – filled with bitter criticism or malice.
But few would have expected the word to be problematic for President Kenyatta who attended the prestigious St Mary's School before proceeding to the the Amherst College in the United States to study economics, political science and government.
Amherst is an exclusively undergraduate four-year institution were  students are not required to study a core curriculum or fulfill any distribution requirements and may even design their own unique interdisciplinary major.
-nairobinews.nation.co.ke