MCA behind Serana Williams's philanthropy in Makueni honoured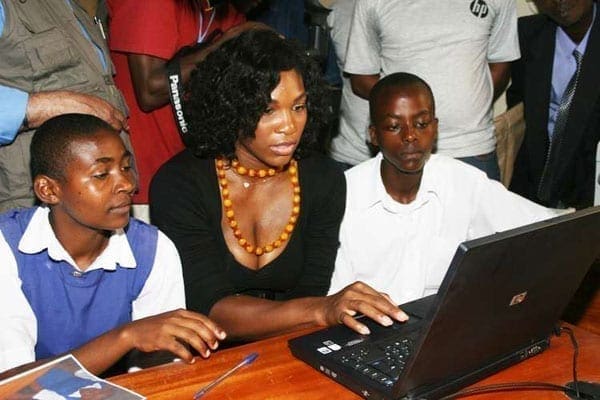 A member of Makueni County Assembly behind the philanthropic activities of American tennis star Serena Williams in the county was on Thursday among hundreds who were feted as heroes during this year's Mashujaa Day celebrations.
Mbitini Ward Representative Dickson Mutaiti was recognized for building and renovating 11 Secondary Schools in his ward and other areas across Makueni and Kibwezi West constituencies.
Two of the schools — Serena Williams Matooni Secondary School and Serena Williams Wee Secondary School — that opened their doors in the presence of the tennis star in 2008 and 2010 respectively, are celebrated as centres of academic excellence in the area.
One of the schools is known as Mutaiti Secondary School in honour of Mr Mutaiti.
"It is a humbling recognition," an elated Mr Mutaiti told the Nation on phone.
The first time lawmaker, who had a short stint in tour guiding, said that he met Ms Williams in 2005 and implored on her to invest in education in his home area.
He said that the fete would energise his resolve to partner with sponsors and well-wishers to support the needy in the society.
Meanwhile, Makueni Governor Kivutha Kibwana has called for an expansion of the criteria for recognizing heroes and heroines that should go beyond individuals who fought when the country struggled to end colonialism.
"We also need to celebrate those who fought for the second liberation as well as our everyday heroes and heroines at the family level, entrepreneurship, arts, sports, leadership and environmental conservation and education," said Prof Kibwana in speeches read on his behalf by administrators at Mashujaa Day celebrations across the county.
He instructed his executive to work with the Assembly and other stakeholders to create Makueni County Heroes and Heroines Policy and Draft Bill that he said would enable the county identify, select and declare heroes and heroines.
He said: "By regularly recognizing and honouring our heroes and heroines, we will nurture a visionary leadership at all levels that is needed to take the county to it's goals for 2025 and beyond."
He said that his government had done well in implementing its development plan and reiterated its commitment to delivering citizens from extreme hunger, joblessness, poverty and disease.
-nation.co.ke