Joho's 'Raila tosha' comment causes storm in Cord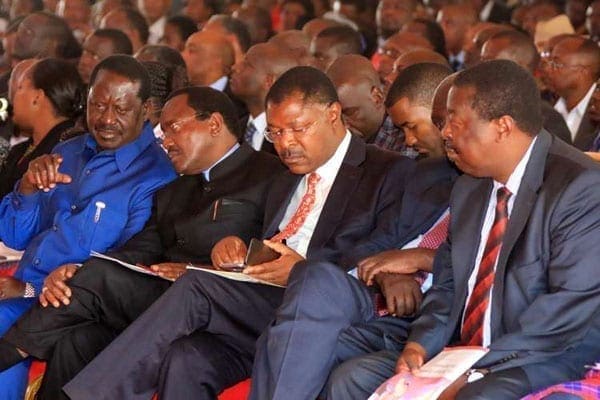 ODM partners in Cord on Monday reacted with fury to comments by the party that they stop wasting time and endorse its leader Raila Odinga as the coalition's presidential candidate next year.
On Sunday, the Orange party for the umpteenth time insisted that Mr Odinga was the best-suited candidate to beat President Uhuru Kenyatta in the 2017 General Election.
"Politics is about numbers and nobody has the numbers more than Raila," ODM deputy party leader Hassan Joho said in Homa Bay. "If we want to beat Uhuru, then we must give Raila a chance."
But on Monday, a furious Makueni Senator Mutula Kilonzo Junior of Wiper warned that such comments, which appeared to force the other partners into a Mr Odinga candidature, will be the death knell of the coalition.
"These miscalculated statements are causing the coalition to appear like a limping duck. With this, the coalition will soon face its sunset years," the senator told the Nation.
He argued that Wiper leader Kalonzo Musyoka and his Ford-Kenya counterpart Moses Wetang'ula had not reacted to the comments because they respected the coalition.
"It is not out of lack of words or platforms that Wiper and Ford-Kenya are not making statements of a similar nature," the Makueni Senator said. "It is because of political maturity that we have allowed wisdom to prevail over our tongues."
The senator proposed that the 15-member bi-partisan Cord management committee be left to do its job of trying to find a suitable candidate.
Mr Wetang'ula had said on Saturday that the three principals were on talking terms and would only turn to the committee if they failed to agree.
The three parties have been at constant loggerheads with each other on who should fly its flag with Mr Wetang'ula and Mr Musyoka asking Mr Odinga to step down for them.
And while Mr Wetang'ula says he was the untried and untested option as he had not lost a presidential election, Mr Musyoka argues that he had sacrificed a lot for the outfit.
PROPOSED ODINGA CANDIDACY
But Mr Odinga's ODM has stood its guns, saying the party was the most popular.
Ford-K Secretary-General Eseli Simiyu on Monday took a conciliatory tone in the war of words among the Cord partners over a proposed Raila Odinga candidacy.
"There is nothing really new in ODM saying that Mr Odinga should be the candidate," said Dr Simiyu. "We have been doing it.
"All we want to do is popularise our parties and then choose a candidate."
Last month, an infuriated Wiper took Mombasa by storm and warned that it could bolt out of the coalition on alleged ODM high-handedness.
"We value and want to keep the unity but I am telling them to stop the chest-thumping and bragging. We want to tell them that we also have other options if they think that they are the majority. We have other ways that we can follow," said Wiper chairman David Musila.
"In the last few weeks, we have been getting worried about the goings-on in ODM and our partners' pronouncements. We are warning them against their threats to go it alone by telling them that we achieved this coalition through great sacrifice."
Equally, Mr Wetang'ula warned that statements that seemed to suggest that ODM was the bigger partner were misplaced.
"We have a partner in Cord when it does something, it is patriotic. When we do something, we are told we are leaving or are unpatriotic," said Mr Wetang'ula said in an earlier interview.
-nation.co.ke