Kenyans in Saudi Bid Farewell to Community Chairman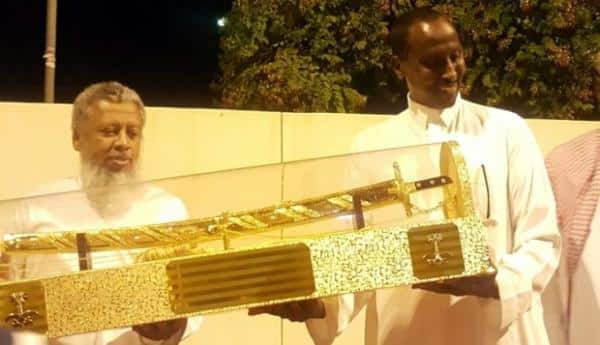 Kenyans in Saudi Arabia bid farewell to the outgoing Chairman of Kenyans Diaspora Society in Saudi Arabia (KDSSA), Mr. Abdallah Abu Awadh Baadel at a reception in his honor in Riyadh.
Gracing the ceremony, Kenyan Ambassador to Saudi Arabia H.E Mohammed Abdi Mohamud paid glorious tributes Mr. Abu Awadh for his leadership, generosity and dedication in helping Kenyans during his stay in Saudi Arabia.
"He has been working closely and tirelessly with the embassy to help Kenyans and we will always be grateful for his good work", said Hon. Mohammed.
In his remarks, Mr. Abdallah Baadel thanked Kenyans for their support during his tenure as KDSSA chairman and called upon Kenyans in Saudi Arabia to unite in order to successfully secure long-lasting socio-cultural and economic ties while in the Kingdom.
"It's through KDSSA that we want to unit, care and build strong cooperation among Kenyans here," he said.
Mr. Baadel further urged the government to put in place mechanism that will ensure integrated database of Kenyans working and living in Saudi Arabia is available which is critical particularly in the event of need to provide urgent assistance to distressed Kenyans.
In his part, Ambassador Mohammed assured Kenyans living in Saudi of the government's commitment to sign the long awaited labor agreement with Saudi Arabia which he said will safeguard the welfare of Kenyans working in Saudi Arabia.
The Kenya Diaspora Society in Saudi Arabia (KDSSA) was formed in 2012 and has played a great role in partnership with the Kenyan embassy in Saudi Arabia in helping Kenyans in distressed Kenyans as well as creating awareness and providing information to Kenyans who reside in Saudi Arabia.
By Hashem M. AlHashem