Powerful Minister Who was Forced to Marry by President Kenyatta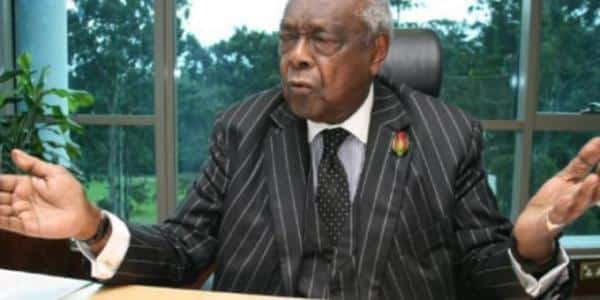 Charles Mugane Njonjo is one of the few Kenyans who have had a taste of absolute power.
Born to Senior Chief Josiah Njonjo in 1920, Charles had a life of privilege and is said to have ridden to Alliance High School on a horseback under a heavy escort of the native policemen.
After Alliance, Charles travelled to South Africa where he studied law at Fort Hare University (same university attended by Nelson Mandela and Robert Mugabe).
Before independence, Charles became the only African allowed to live in the exclusive Muthaiga neighbourhood which, at the time, was reserved for the whites.
His English mannerisms and love for British culture earned him the notorious title, 'Sir Charles'.
For several decades, Charles has been known for his bespoke-stripped suits which he wears with a red lapel and has stated that he only buys his clothes from London's Savile Row
Despite his contempt for Africans, Jomo Kenyatta appointed him as Attorney General — a post that gave him immense power.
Among his colleagues, Charles was known as the senior bachelor with little interest in the beautiful African women who worked around him.
As a result of pressure from Mzee Kenyatta, who would often complain that he did not wish to be advised by a bachelor, Charles married a British woman at the age of 52.
After Kenyatta's death, Sir Charles was instrumental in ensuring Daniel Moi was allowed to ascend to the presidency despite opposition from a section of powerful Kikuyu mafia.
He, however, fell out with Moi and was dishonourably relieved off his power.
At 96, Sir Charles, or the Duke of Kabeteshire (another English nickname inspired by his origin from Kabete) is still strong and living a wealthy life with interests in a number of blue chip companies.
-kenyans.co.ke