Raila hits back at Mwaura over deregistration, calls ODM rebels prostitutes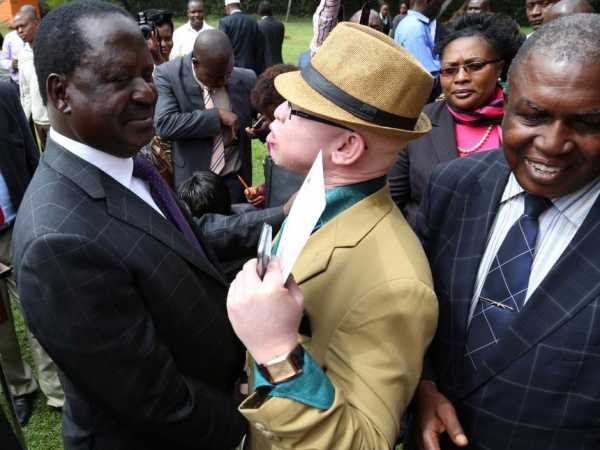 ODM leader Raila Odinga has hit back at Nominated MP Isaac Mwaura who claimed his name was forcefully removed from the party's register.
Raila told the MP on Tuesday that the slot he held belonged to the party and that he needed to give it up.
"Unfortunately Mwaura has found it hard to leave ODM. Jubilee has its own slots… Mwaura is not in ODM," he told a meeting of persons livings with disabilities at Orange House.
"…We are justified to demand that the seats be given back to ODM."
The ODM leader said the "prostitutes" (rebels) were given a chance to change their minds but did nothing.
"The ball is no longer in our court but the government's," he said. "ODM appointed a committee to listen to all those prostitutes… the committee then recommended… They are no longer members and ate not entitled to represent ODM in parliament."
The party wrote to the Registrar of Political Parties on the expulsion of Mwaura and nine other rebels following a decision by the National Disciplinary Committee.
Mwaura attacked Raila last Friday saying ODM will not win the presidency as it lacks respect.
He also said Kenyans are tired of a party with double standards and a leader who gives them proverbs instead of concentrating on important issues.
The decision to expel the rebels was made at an ODM governing council meeting on October 31 but some members appealed against it through lawyer Kioko Kilukumi.
Politicians in the list of the 10 expelled from the Orange Party included Budalang'i MP Ababu Namwamba, Kwale Governor Salim Mvurya and Sirisia MP John Waluke.
The disciplinary committee pardoned Marsabit Governor Ukur Yattani and Igembe Central MP Cyprian Kubai. Some of the politicians apologised to Raila and the party for defecting to JP.
Raila hits back at Mwaura over deregistration, calls ODM rebels prostitutes