VIDEO:Raila defends Cord governors, says corruption audit biased
The propaganda in the Auditor's General audit report is being is being directed to Cord counties, leader Raila Odinga has said.
Raila cited the Star newspaper's exclusive coverage of the report released on Monday, saying Jubilee counties were yet to be covered.
"It is not only in Cord counties unfortunately… the propaganda being spread right now is directed as cord…even Nakuru is supposed to be led by ODM… even Garissa.. it's not objective," he said.
"…and they are quiet when they know others like Kiambu, which is a Jubilee county, lost money. It is something that is spread across the board."
But the opposition chief said in Kilifi county on Wednesday that they did not want to use the report to fight back as "the Auditor General is entitled to raise audit queries" in the court of his work.
"The queries need to be answered. But what we want is not to be told about the queries… We want to talk about a report that will confirm money was lost in one or another way," he said.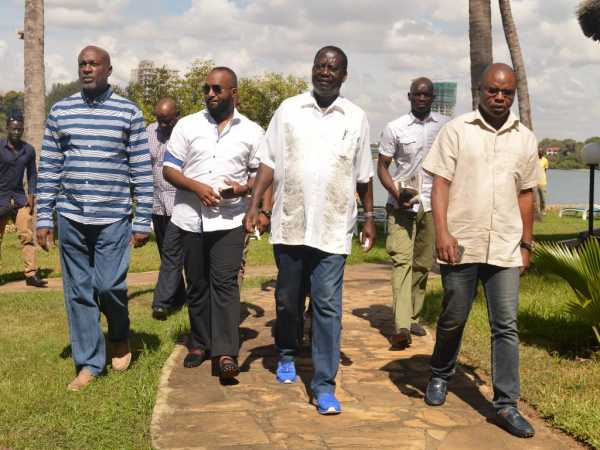 Cord leader Raila Odinga (Center) accompanied by with Mombasa governor Hassan Joho,Kilifi counterpart Amason Kingi and Kwake Senator Boy Juma Boy during a press conference at Tamarind Hotel in Mombasa on Wednesday. Photo /John Chesoli
The county reports have pointed out instances under which money could have been misused and raised concerns about the particular cases.
Raila echoed Council of Governors chairman Peter Munya's sentiment that IFMIS has loopholes that must be sealed for the war on corruption to be won.
He blamed the system for the loss of Sh51 million Kilifi county funds but said Governor Amason Kingi was not at fault as he quickly initiated investigations to prevent the loss of a higher amount.
"Kingi and his government have not sought to spread blame and pass the buck," he said.
He added that the county chief did better than President Uhuru Kenyatta "who defends corrupt officials instead of calling for investigations".
The President has sacked key officers including ministers linked to corruption deals and has said he has done everything in his power to end the vice.
The Cord boss further bashed Jubilee leaders who scolded him for remaining silent on the Kilifi scam saying he was out of the country and could not speak without facts.
Raila said he held an overnight meeting with Kilifi officials, including the Governor, and obtained "satisfactory" answers.
"I'm here on a fact-finding mission about corruption to get the facts right from ODM counties. I have met Kilifi county officials," he said.
It emerged last week that Sh51 million, not Sh45 million was allegedly stolen from Kilifi. It is suspected that cartels from IFMIS, the national online payment system, and five banks colluded to steal money.
The revelation came days after 10 county officials were suspended over the missing funds. They included Health chief officer Timothy Malingi and accountants Paul Mwanzo (Treasury), Jacob Konde (Health), John Kalume (Finance) and Josephine Muramba (Education).
Raila has supported the CoG's call for the government to immediately establish an independent forensic audit team to look into the alleged theft of county funds.
-the-star.co.ke