VIDEO:Uhuru awards Dedan Kimathi's widow for role in independence fight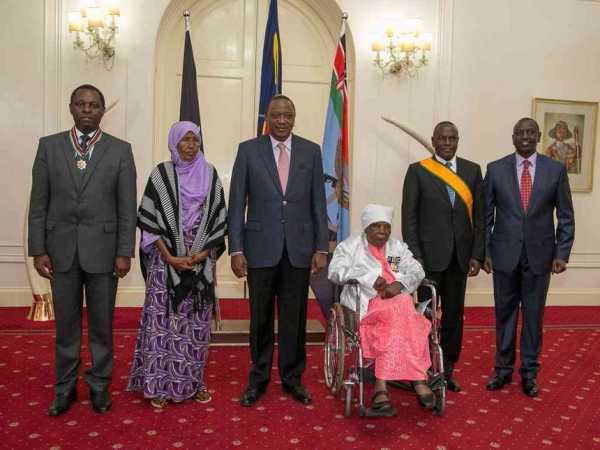 President Uhuru Kenyatta has honoured freedom fighter Dedan Kimathi's widow with the Elder of the Order of the Burning Spear award.
Uhuru presented the award to Elois Mukami on Thursday for the role she played in the fight for independence.
He presented a similar award to Fatuma Hirsi, a peacemaker from Wajir county.
During the ceremony held at State House in Nairobi, the President told the two women that the country was proud of them.
"Mama Mukami, thank you for the role you played in our independence war. And thank you Mama Fatuma for fostering peace between our communities," he said.
The President also presented awards to Health Cabinet Secretary Cleopa Mailu (Elder of the Golden Heart) and Kennedy Nyabuti (Elder of the Order of the Burning Spear).
Nyabuti, an advocate, is a member of the Kenya Ports Authority and former chairman of the Anti-Money Laundering Advisory Board.
The President also gave a posthumous award to the late lawyer Stephen Njiru, whom he earlier described as a patriot whose contributions have shaped Kenya's political landscape.
-the-star.co.ke