Three killed as Kipsigis and Maasai fight in Trans Mara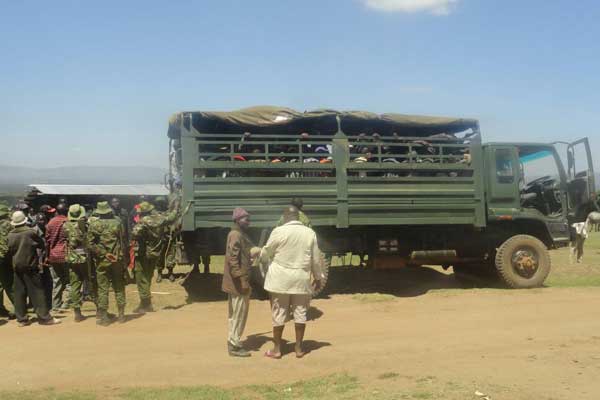 Three more people were on Wednesday killed in Esoit, Trans Mara West in Narok County as fighting between the Kipsigis and Maasai communities escalated.
On Tuesday, a Kipsigis was killed by people believed to be from the Maasai community, sparking clashes between the two neighbouring communities.
Eyewitness said that Samuel Sameri, 37, and Kiara ole Nayopare, 78, were hacked to death with machetes in retaliation to the Tuesday killing.
The two were attacked near a maize plantation near Esoit trading centre.
Trans Mara West Police Boss David Wambua said that the two men had attended a circumcision ceremony on the Kipsigis side and were attacked on their way home.
"They were stalked on their way home and butchered by the unknown assailants," he said.
Following the murder of the two, the Maasai launched a revenge attack on charcoal burners who were on their way from Nyakweri Forest, killing one.
The bodies of the victims were taken to St Joseph's Mission Hospital mortuary.
Mr Wambua said the government has beefed up security in the area and General Service Unit (GSU) officers are keeping vigil.
"We have officers on the ground who are patrolling the area," he said.
The officers are also assisting in evacuation of people from Nyakweri Forest to safer areas.
The police boss condemned the skirmishes saying they are uncalled for.
He asked members of the two communities to stop revenge attacks saying they are only aggravating the situation.
He said they are conducting further investigations into the incidents.
Esoit trading centre has remained volatile in the past four months with members of the two communities engaging in revenge attacks.
Early November, over 10 houses were torched and over 1,000 Kipsigis evacuated to safety after clashes erupted.
Over six people have now been killed and several others injured in related attacks.
-nation.co.ke