Kanu torn between President Uhuru or Raila Odinga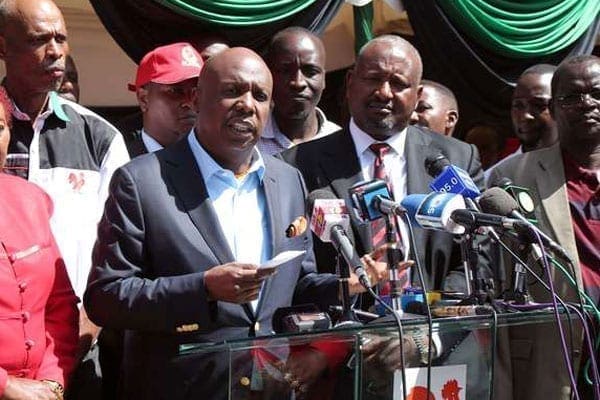 Kanu leaders Thursday failed to agree on whether to support Jubilee or the opposition in the August elections.
Instead, the National Executive Council (Nec) mandated the party's Chairman Gideon Moi to consult widely on the matter and report back within two weeks.
"Nec has mandated the chairman to consult extensively on all available options for the party on the matter of presidency and report back to the council within two weeks for further deliberations," Kanu Secretary-General Nick Salat, who read the statement on behalf of the council, said.
Mr Salat said the final decision will be presented at the National Delegates Conference (NDC) that will be convened in two months-time, for ratification.
Mr Moi said he would respect the decision of party members on the presidential candidate to support in the coming elections.
"Even if they decide to support Jubilee presidential candidate, I will not let my personal political differences with Deputy President William Ruto force party members to support the opposition candidate against their will," Mr Moi said.
The Nec meeting was called to deliberate over the recent sentiments by Mr Salat that "Kanu is deeply in the opposition ahead of August polls".
Mr Salat made the remarks during the launch of the National Super Alliance (Nasa) at the Bomas of Kenya.
The remarks elicited criticism from Mr Moi, Nec member and Nominated Senator Zipporah Kittony and West Pokot Senator John Lonyangapuo, who said the sentiments were Mr Salat's personal views and not Kanu's stand.
"I have presented the report before Nec in relation to the remarks I made at Bomas," Mr Salat said.
However, Mr Lonyangapuo told Nation that Kanu would delay disclosing its support for the presidential candidate until the opposition names its flag bearer.
"For now, we don't know either the manifesto or the opposition's flagbearer. We are waiting for them (Nasa) to name their presidential candidate and publish the manifestos.
"We will declare our support for the side with which we share the same visions.
"We will let Kenyans know our stand after studying the Cord and Jubilee manifestos. If we are not satisfied, we will field our own presidential candidate," Prof Lonyangapuo said.
Nec members also discussed the ongoing mass voters registration and preparation for nominations.
The council also announced that Kanu would field candidates for all elective positions countrywide.
-nation.co.ke