MP Millie Odhiambo gets reprieve in Uhuru 'insult' case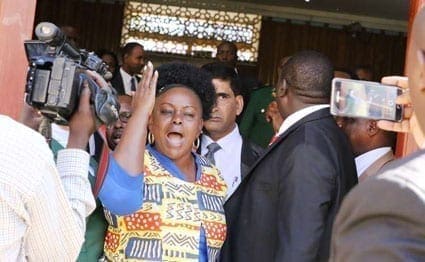 Mbita MP Millie Odhiambo will not be arrested for allegedly "insulting" the President within the precincts of Parliament last month.
This follows a ruling in her favour by the High Court on Tuesday in a case the lawmaker had filed seeking to bar law enforcement officers from arresting and prosecuting her over her alleged offensive remarks against President Uhuru Kenyatta.
Last month, Ms Odhiambo was caught on camera making what appeared to be offensive and derogatory remarks directed at President Kenyatta regarding his legitimacy as President and ability to govern the country.
She later moved to court seeking anticipatory bail over her imminent arrest following her utterances.
The lawmaker claimed she only expressed her displeasure at the way the government was transacting its business in Parliament
High Court Judge Luka Kimaru on Tuesday directed that the police not arrest Ms Odhiambo until investigations into the matter are completed.
The judge further ordered her to present herself at the Parliament Police Station on January 12 at 10am to help the police with their investigations.
Prosecutors said once they finish their investigation they will forward the report to the Director of Public Prosecutions for further directions.
The case be mentioned on January 17.
-nation.co.ke