Raila Odinga still wants to be NASA 2017 candidate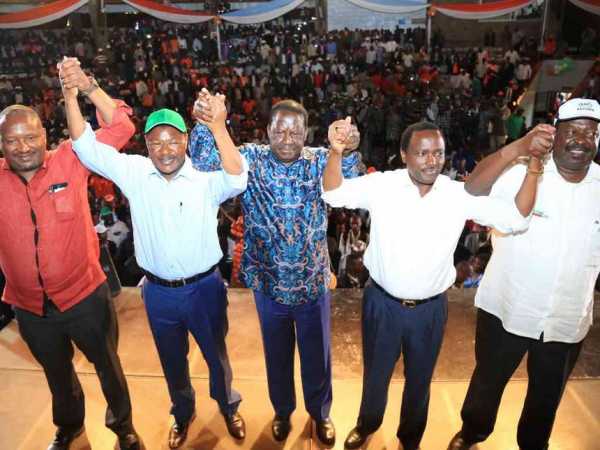 The general election could well be a rematch between President Uhuru Kenyatta and Cord leader Raila Odinga, despite much talk and deliberate suspense about another joint opposition flagbearer.
The Star has established Raila has quietly put together a presidential campaign team headed by university don Dr Adams Oloo.
None of the other Cord co-principals has a full-fledged presidential secretariat.
And the presence of the former Prime Minister loomed large at the first joint opposition convention at the Bomas of Kenya on January 11, giving a strong suggestion he could fly the flag for a fourth time. This time for NASA.
Raila spoke last, was praised as the "lion" of Kenyan politics and crowned with the branded caps of four main opposition parties.
Still, his strategy could be to keep everyone guessing, while he tests the waters.
While in Busia on Thursday, Raila indicated he expects to be the standard bearer, urging supporters to leave it to him to prevent "rigging at the top".
"Ghana used to rig elections with digital boy John Mahama being the latest architect of the vice, but my agemate Nana Akufo-Addo sent him packing. We shall do the same to the Jubilee digital boys," he said.
??xxxHe added, Jubilee medicine is to elect me President."
Indeed, all opinion polls over six months have shown Raila is the only candidate who can rival Kenyatta, despite trailing by about 20 points.
A Star poll released last week showed — that if the election were held today — 44 per cent of Kenyans would want Raila as the joint opposition candidate, while 18 per cent prefer Amani leader Musalia Mudavadi.
Twelve per cent prefer Wiper leader Kalonzo Musyoka, two per cent Ford Kenya boss and Bungoma Senator Moses Wetang'ula and one per cent Kanu chairman and Baringo Senator Gideon Moi.
An Ipsos poll in December showed Raila would get 22 per cent against Uhuru's 50 per cent, while Mudavadi would get one per cent and Kalonzo two per cent.
At Bomas, coded language by opposition lieutenants left no doubt as to who could mount a formidable challenge to Uhuru and DP William Ruto.
Cord captains — Raila, Kalonzo Musyoka and Moses Wetang'ula — and the National Super Alliance's chief proponent Musalia Mudavadi all want the opposition flag.
The protocol at Bomas also strongly suggested Raila was the man to watch and speculation was rife.
The 72-year-old veteran of many battles — including the second liberation and multi party democracy — was the last to speak, signifying his seniority.
All the experts making presentations at Bomas are from Raila's think tanks.
They are economist Dr David Ndii, University of Nairobi don Elias Ongoya and Abubakar Zein, former member of the old Constitution of Kenya Review Commission. Zein is also ODM's East African Legislative Assembly member.
The three elaborated on the dangers of the contentious election laws, the declining state of the economy and why the opposition must capitalise on mass voter registration to kick out Jubilee.
The presence of those three allies indicates the ODM leader will heavily influence the opposition's direction.
Still, political analyst Barrack Muluka yesterday vouched for a Mudavadi-Kalonzo ticket, saying the pair will undoubtedly deliver a resounding victory.
"The two have never worked together since 1997. The country needs something new and exciting from NASA, with one of them the presidential flagbearer and the other his running mate," Muluka told the Star in a phone interview.
According to Muluka, the opposition must use soon-to-be-launched NASA as its ideal election vehicle if it is committed to winning.
"Kenyans' excitement is not about Cord — it's NASA and the opposition must know this. Anything short of NASA will not go down well with expectations. NASA is the baby the principals must nurture and get traction for," Muluka said.
Although it was thought Mudavadi's entry into the opposition equation could alter the Cord protocol matrix, the ANC Leader was the first to speak.
Two weeks ago, Mudavadi was crowned the Luhya kingpin, elevating him above Wetang'ula. This created fears he could relegate the Ford Kenya leader to the political periphery.
At Bomas, Wetang'ula spoke immediately after Mudavadi, indicating Cord strategists don't want to destabilise the initial delicate power balance.
Just a day before the convention, Wetang'ula and his allies had termed Mudavadi a "Johnnie come lately" and a Jubilee project to rock the opposition boat.
"Mudavadi wants to be used by Jubilee. If he wants to survive, he should stop associating himself with [Cotu's Francis]Atwoli and [Lugari MP Ayub] Savula," Kakamega Senator Boni Khalwale said.
During the launch of the Okoa Kenya Referendum Bill in April 2015, Wetang'ula protested against what he called a protocol slight after Narc Kenya leader Martha Karua was introduced after him.
He claimed ODM was trying to undermine his co-principal role.
But yesterday Muluka dismissed Wetang'ula's influence in Luyha land, saying, "He must eat humble pie."
"From his body language and remarks, you could see Wetang'ula is reluctant to accommodate Mudavadi. Wetang'ula has a lot of homework to do in Bungoma before he tries a bigger contest. He is joining NASA empty-handed," Muluka said.
At Bomas animal names were assigned to opposition figures. Raila was called the "Lion" of the opposition by Machakos Senator Johnson Muthama, who is also co-chair of the Cord Management Committee.
Muthama, previously accused of undermining Kalonzo, only likened the Wiper Leader to a leopard.
"The largest political animals are five. If you hear of the buffalo, that's Mudavadi; of an elephant, that's Wetang'ula; of the rhino, that's [Kanu secretary general Nick]; and if you hear of the leopard, that's Kalonzo," Muthama said
Then — with unmistakable symbolism — the Kakamega senator and Wetang'ula's second-in-command crowned Raila with all the four parties' branded caps.
And once again, Kalonzo signalled he could again sacrifice his presidential ambition for the opposition.
"I have sacrificed before and I am ready to sacrifice again because I love this country so much. I expect this kind of sacrifice also from my colleagues," Kalonzo said to a standing ovation.
-the-star.co.ke