Arrest me, Hassan Joho dares Uhuru and Ruto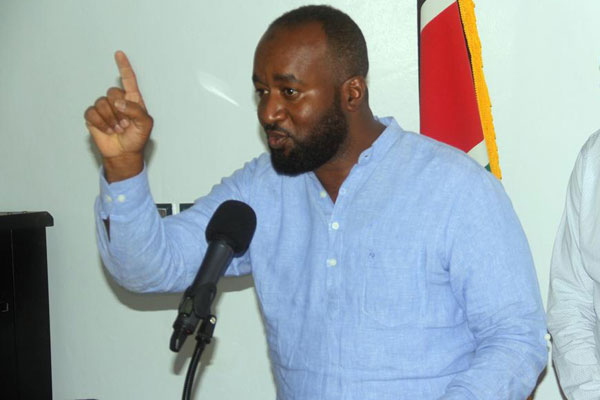 Mombasa Governor Hassan Joho has dared President Uhuru Kenyatta to arrest and prosecute him if he had any evidence linking him to the narcotics trade.
A tough-talking Joho on Tuesday said insinuations by the President and his deputy William Ruto that he was involved in the illegal business were meant to sabotage his political career.
"They did the same in 2013 and I kept quiet. But this time round, I will not shut up; I will engage them because nobody can intimidate me. I am also a man and will fight for myself," he said.
The governor spoke just days after both Mr Kenyatta and Mr Ruto toured Mombasa and warned that the government would arrest drug dealers. The visits came in the wake of the arrest of the Akasha brothers and their allies who were taken to the US on drug related charges.
The Jubilee leaders have since waged a public campaign alleging that the Opposition was in bed with drug dealers and warning of more arrests.
But on Tuesday, an angry Joho asked why the government had failed to prosecute him if it had any evidence linking him to drugs.
He said Mr Kenyatta and Mr Ruto should clean their own houses over the matter before pointing fingers at others.
Mr Joho accused Mr Kenyatta and Mr Ruto of waging a political war against him using the drugs issue, adding that the government lacked the political will to fight the menace.
"They are making a public show that is all false. It is a political ploy to lock me out of the governor race. I tell them I will be on the ballot and I will defeat them. How can you tell a bank robber or a rapist that I will come for you? How can you give such a criminal notice? Just arrest him," he said.
The governor, who was speaking at his new office at Treasury Square in Mombasa, said the county government had achieved more in the war on drugs than the national government.
"We have more than 600 addicts at a rehabilitation centre and we have made more arrests of drug dealers than the national government," he said and vowed that he would not be intimidated by the government "because I rely and depend on God, not a human being".
He described the government's "politicising of the issue" as "very unfortunate" saying it was wrong to play games with people's lives.
The official challenged Jubilee leaders "to clean their own houses", claiming that it was they who used drugs in their houses and therefore, "they should arrest those ones first".
"Let Ruto come to Mombasa and give a press statement not surrounded by police the way he did at Uhuru na Kazi at a place like Magodoroni, Shimanzi, Railways. There are more than 500 drug addicts at Magodoroni using drugs in broad daylight.
Hold a press conference there. We are not in Nollywood here. I don't control a militia but I cannot accept strange policemen as guards. Let them keep their police. If it's politics, we will do the politics we know. I cannot be intimidated by anyone," he said.
He, however, admitted that the drug problem in Mombasa "is very serious" but insisted that the only way to resolve it was through a combined approach and collaboration among various agencies including the county and national governments.
He said that his efforts to engage the County Commission office last year were met with resistance from the administrators.
"I was called only once by the County Commissioner (then Mr Mohamed Maalim) and you saw what happened. He was promptly transferred (to Kisumu)," he said.
No one from the government, he clarified, had spoken to him about the issue and criticised the Standard for saying he was under investigation.
Governor Joho refuted allegations by regional co-ordinator Nelson Marwa that he was operating a militia gang, adding: "How can I operate a militia gang? Why can't they arrest me or those militia men if they have any evidence? The inspectorate is in the open at Tudor, which they can visit," he said.
Once again, Mr Joho rejected security guards from the government unless he was allowed to appoint them himself.
"Every leader including Uhuru and Ruto appoint the security guards they want. How can they send police officers who are strangers to be with me in my car or guard my house? They can plant something on me," he said.
On the multi-billion shilling projects being undertaken in Mombasa, the governor maintained that they were not national government projects but donor-funded.
-nation.co.ke