Kenyans flee Pretoria after fresh round of deadly attacks erupt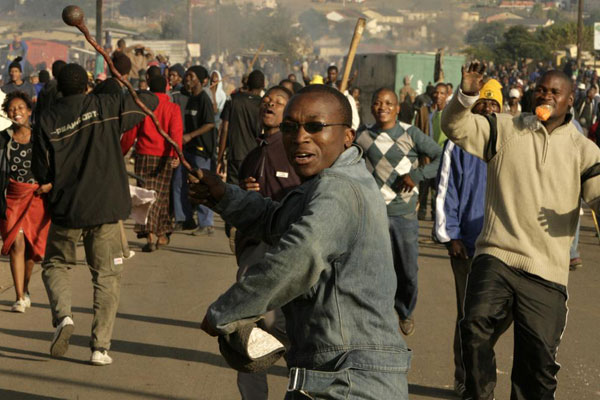 Scared Kenyans and other foreigners living in Gauteng Province of South Africa have been either fleeing the area or staying indoors for fear of their lives, after a fresh round of xenophobic violence.
Kenyans who spoke to the Nation said foreigners living in the South African capital Pretoria (Tshwane) had received threatening messages through WhatsApp, warning them of an impending attack.
"The area where we are staying is very bad and surrounded (by) bullets and burning tyres and the government is now announcing a raid from office to office and businesses demanding to see papers. It is like they (authorities) are supporting them," said a Kenyan working for a financial corporation in Pretoria, but who asked to remain anonymous.
The Kenyan banker could not clarify if the violence had involved shootings in her area, but other Kenyans shared their concerns after messages circulated in their neighbourhood, calling for South Africans to protest against alleged foreign domination on Friday.
Foreign Affairs Principal Secretary Monica Juma however said there were no reported cases of attacks on Kenyans or looting of their property.
"The Kenya High Commission has been monitoring the situation. We have not received any reported cases of direct injury or loss from members of the Kenya diaspora," she stated.
She added that the mission had also issued a warning to Kenyans living in the country to exercise vigilance and report any threats.
Earlier in the week, a group of protesters turned violent, torching houses and shops belonging to foreigners, South African media reported. Some of the protesters turned into looters and vandalised property within the capital.
The turn of violence influenced revenge in Abuja Nigeria where violent protesters targeted facilities owned by South African telecom firm, MTN, according to This Day newspaper, because most of the destroyed property of foreigners in Pretoria was owned by Nigerians.
This year's violence, said to result from mistaken feelings that crime and economic inequality is caused by foreigners, could particularly give South Africa a bad image again, just two years after its officials led by Vice President Cyril Ramaphosa went round the continent to offer profuse apologies after deadly round of xenophobic attacks in several cities.
In April 2015, angry unemployed mob targeted foreigners killing them or looting their property.
In reaction, some countries evacuated their nationals as Nigeria initially recalled its High Commissioner to Pretoria.
As organisers of the protests insisted theirs would be peaceful, another group reportedly took advantage of the chaos to circulate a message warning of attacks against foreigners.
"This is to inform you that we will be attacking all foreigners…we urge you to attend the strike so we can help each other to remove all the foreigners from our country… (sic)," a message circulating among South Africans in the Pretoria suburb of Mabopane. but which was later shared with Kenyans in the area, read.
The words 'attacking' and 'foreigners' had been capitalised in the message seen by the Nation. It listed all the areas in the city to be targeted including Mabopane, Sunnyside, Garankuwa, Soshanguve, Garankuwa and Winterveldt.
"I couldn't go to work yesterday. In the past, they have killed people ruthlessly like animals.
Though the planned demonstration was allowed by local authorities, South Africa's Home Affairs Minister Malusi Gigaba was quoted by local media calling for restraint in the protests.
"I have met with protest organisers and have appealed to them to express themselves responsibly. Government responded speedily to the latest outbreak of violence," Mr Gigaba said according South African online news portal Daily Maverick.
"We have directed all security officials to objectively deal with criminality, regardless of whether it is committed by a South African."
The renewed violence which has become some sort of annual ritual in South Africa for the last decade saw rights groups on Friday demand answers on how Pretoria would deal with them.
"To avoid a bloody and wholly unnecessary conclusion to this standoff, the authorities must take all measures necessary to ensure that violence does not escalate and to facilitate the assembly of those who are demonstrating peacefully," Deprose Muchena, Amnesty International's regional director for southern Africa said in a statement.
On Thursday, the South African Human Rights Commission wrote to authorities to express "deep concerns" over the attacks and asked for a precise plan to prevent further violence.
"The Commission re-iterates that an attack under the guise of crime prevention, aimed at a particular vulnerable group, on the basis of their birth outside of South Africa is an infringement of the rights within our Constitution.
"The Commission once more appeals to community leaders to ensure due process is followed and that these communities address their concerns to the duly authorised authorities," it said in a statement.
Source link-nation.co.ke