Love against all odds-Couples whose marriages have survived disease, disability and unemployment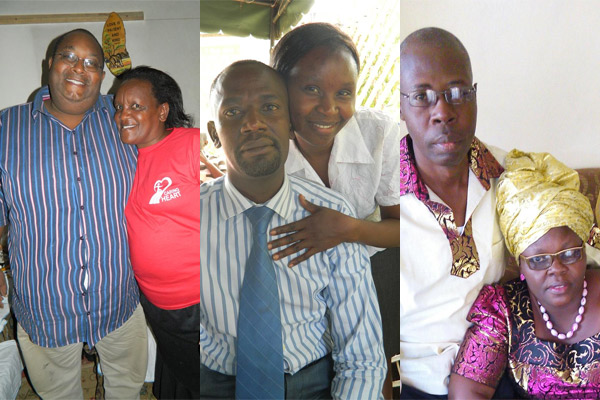 Marriage vows say 'for better or for worse' but we never really expect the worst, do we? So what happens when life throws an otherwise happy marriage a huge curve ball that might cause a couple to split? Thomas Rajula speaks to three couples who have been there and survived.
We've made it through illness
Pastor Mercy Gichuru, 48, and Pastor Francis Gichuru Gahieki, 50 are childhood friends who started dating in 1983, but went separate ways in 1985. They reunited in 1989, when Mercy had a son, who'll be turning 31 this year, by another man. Their union has survived family opposition and Francis' battle with prolactinoma, which has affected their intimacy.
When Mercy and Francis met the second time round after their break up, it was almost inevitable that they would get back together. "She had qualities I couldn't find in others: (she was) understanding, diplomatic, hardworking, and comforting. It led me to love her more," says Francis.
"We were good friends before the break up, and he would always encourage me," Mercy says. "He would comfort me whenever I was down. The people I saw after him wanted … to misuse me. I used to feel a vacuum inside. When we reunited, I felt joy again."
Thus followed a period of growth. They started a supplies business together, and Francis helped Mercy improve her sales skills from what he learned as an insurance marketer. They got married in 2000, despite Francis' family and church's opposition – his family didn't attend.
By 2007 Francis was gaining weight and his breasts enlarging. His energy levels were low, and he was having back pains, constant migraines and poor eyesight. The couple was having little sex, despite pressure from both families to have a child together. Then one afternoon, Francis came home with wet circle stains on his shirt. Alarmed, Mercy told him to take off his shirt and squeezed his breast. Milk came out. She called a doctor friend who suggested she take him to Kenyatta National Hospital immediately, lest it be cancerous.
Two years of brain CT scans, X-rays of the liver and kidneys and blood tests yielded nothing. There were trips to the endocrinologist and prodding by medical students. Their business suffered, as Mercy had to accompany him to the appointments.
Finally, in 2009, Dr Kirtinda Archarya of MP Shah Hospital diagnosed the problem. The couple had seen her on television describing a condition similar to Francis' and found her contact details. She knew what was wrong immediately she saw him. An MRI scan in 2010 confirmed he had an adenoma (non-cancerous tumour) of the pituitary gland. This made him produce prolactin hormones in the levels of a breastfeeding woman. It made him infertile, too.
Opening up about Francis' condition brought Mercy 'advice' from those closest to her.
"They said I should leave him. Even pastors who were our friends suggested that no one can live in a marriage without (sex). Francis told me to get satisfaction elsewhere because he couldn't help it if I was feeling punished. I could see it hurt him. I asked myself how I would feel if I was in his situation and he went to other women. I told him to help me pray so that I could persevere instead. It wasn't easy. I'd cry and think about leaving at times. A married person is psychologically and physically prepared for sex, because you know you have someone there with you. Then I'd remember why I loved him and I'd come back home to him. We confided a lot in each other. He let me share in his feelings. It took three years before my mind was positive about this. You can do many other things and still find fulfilment despite the lack of sex," says Mercy.
---
We've made it through a family crisis
Dorothy Onyinge, 31, is married to Gerald Ouma, 36. They have been living with Dorothy's sister, Phidelis, who suffers from schizophrenia, for two years. Dorothy is a medical representative and Gerald operates a supplies and operations business.
In 2004, while in Form Three, Dorothy's sister Phidelis withdrew from school, friends and family. She would experience hallucinations accompanied by screaming, yelling, crying, or laughing. Dorothy travelled upcountry to take her to hospital, but the doctors didn't catch anything. Phidelis asked to be transferred to another school, but her symptoms carried over there. Dorothy and her sisters had Phidelis tested for pregnancy. That came out negative. In 2005 the family brought her to Nairobi and tests at Menelik Hospital confirmed she was suffering from schizophrenia. She was given medication.
Dorothy moved in with Phidelis after she finished school because all her sister were married, and she was most available to take care of her. All of Dorothy's siblings contribute to her medication. "I lived with her when she was in college, before I got married. I Googled a lot about the condition and how to care for her. I visited her doctor even without her, asking questions," says Dorothy.
Dorothy and Gerald were married eight years ago, and she briefed him about her sister's condition right from the beginning. He agreed to support her and also researched on the condition, himself, fully aware that Phidelis would be a part of his life, too. "If it was my sister I'd also expect Dorothy to accommodate her," says Gerald. While they spent the first six years of their marriage alternating Phidelis' care with Dorothy's sisters, Dorothy and Gerald offered to have her live with them two years ago.
Dorothy has learned to read Phidelis' mood. While schizophrenia symptoms can be frightening to the unfamiliar, Dorothy takes it in stride. "If you give love and support to a schizophrenic, it sometimes gives them the courage to try to do the things people don't expect of them. They become wild and demand that love if it is not there," she says. And Gerald vows to always be there for Dorothy, no matter what. "Dorothy is very loving, supportive and open-minded. Because of how understanding she is, I have to give back to her," he says.
---
We have survived retrenchment
Grace Odongo, 52, has been supporting her family financially since her husband Peter Odongo, 54, got retrenched in 2011.
Peter was going back to work from leave when he received a letter informing him that he had been relieved of his job as an accountant and administration manager at a Mombasa entertainment club. "They were cutting costs," he says. "I started asking why they chose me. I was shocked and confused about how I was going to break this to my family. The plans we had were now scattered."
Peter had been here before. Two years after he married Grace in 1986, he was let go by a financial institution. He sent Grace to live with his parents in the rural areas while he was job-hunting in Nairobi.
"It was hard," Grace remembers her life at her in-laws. "I had to learn how to farm by hand, where my father would have hired a tractor. The rural folk didn't understand me (either)," says Grace.
Peter brought Grace back two years later when he got a job in Mombasa. And then the retrenchment happened. "This time we were more mature," says Peter. That night, he sat the family – Grace, three sons and three foster daughters, Grace's nieces from her late sister – down and told them the news.
Since then, Grace's cake business has been keeping the family. Taking the place of provider is not easy. "When a man loses his job, he becomes fragile. Saying and doing things requires much thought. Every mistake or speaking your mind too strongly is seen as a reaction to him being jobless. (It's a delicate balance, trying to not make him) so mad and not baby him either. You make him understand if there's anything wrong – if he's spending too much time wallowing, or asking him to help you when you're tired. You have to phrase it in a way that won't make him start feeling like a victim again," says Grace.
Peter still appreciates his place as the breadwinner. "You have to do something, even if you feel it won't bring in so much (money)," he says. "Initially, you were the one providing everything. Now she's the one taking care of everything. You have to chip in somewhere. When you can't bring anything to the table you feel guilty. You can't also be asking for cash from her, she's already overstretched. When you don't have a Plan B, stress kicks in," says Peter, who has been operating a tuk tuk since 2014.
Peter and Grace also have friends who are much older than them who advised them immediately Peter lost his job. "We may be going through a tough time now, but you have to remember the way things were before Peter lost his job," Grace says. "He was very responsible when he was employed. We ate well, we dressed well. The only thing we had to do was let our dependents back home know that we would not be able to support them like we used to."
While many women would not hesitate to leave a jobless man, Grace has stayed. Why? "These situations are never permanent," she says. "You don't know what God has in store. When we met I saw a handsome, polite and humble man. I told him I was looking for someone who'd be serious because I wasn't feeling like moving from man to man. My fear was that he was just putting up a face and he would change after we started leaving together. He has been the same man I asked him to be," says Grace.
Source link-nation.co.ke
Love against all odds-Couples whose marriages have survived disease, disability and unemployment