I am not a drug baron, ready to clear my name in US, says Sonko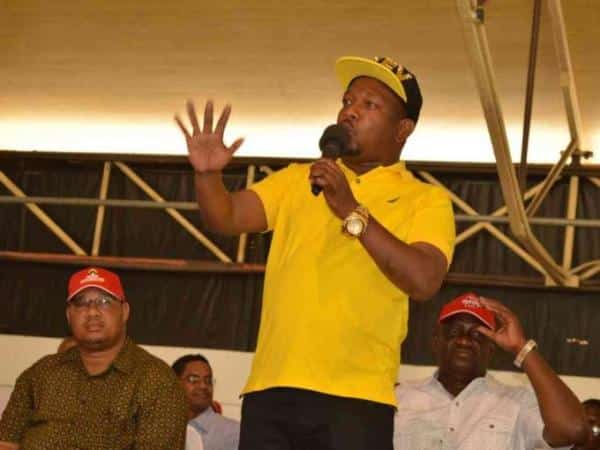 Mike Sonko has denied engaging in drug trafficking following renewed efforts by the US government for suspects to be prosecuted.
The Nairobi Senator, six MPs and Mombasa tycoon Ali Punjani were named in an American Embassy report made public six years ago.
Speaking in Changamwe on Sunday, Sonko said he was ready to face America's Drug Enforcement Administration to clear his name.
He said he was ready to travel to the US for invstigations by state security agents including the Federal Bureau of Investigation (FBI).
"I want all those mentioned in the US report to travel to the US to be cleared. I am ready, with my passport, to lead the way," he said.
He added that he supported the the ongoing crackdown of drug barons and the extradition of four suspects to the US for trial.
The DEA played a major role in the arrest and extradition of two sons of slain drug baron Ibrahim Akasha to the US on drug trafficking charges.
The Senator has said many times before that he is not a drug dealer. He once said he will never engage in the illegal trade and dared Governor Evans Kidero to prove he is a drug peddler.
Kidero accused Sonko of using his ambulances and hearses to supply drugs to the slums.
"It is very ironical that ambulances are roaming all over our roads with sirens so people would assume someone's health is in danger only to find out they are dashing drugs to some place," he said.
Michael Ranneberger, who was US ambassador at the time, handed the report to the then internal security minister George Saitoti for tabling in Parliament.
Others named were Kiambu Governor William Kabogo, Mombasa's Hassan Joho, former assistant minister Harun Mwau, former Kamukunji MP Simon Mbugua and Othaya legislator Mary Wambui.
They have all denied involvement saying the report lacked facts and was aimed at tarnishing their names.
Joho denied the claims on behalf of family members incudling his Abubakar. He said Abubakar has never traded in guns or the illegal sale of guns.
"When other countries suspect that people are engaged in this trade, it's natural for us, being partners in this war, to ensure they are handed over for prosecution," Joho in a recent interview.
Deputy president Willam Ruto earlier said the government had received more intelligence on drug barons and that they would be arrested soon.
Ruto said countries including the US and UK were assisting Kenya to buil a case against suspects including prominent people, politicians and businessmen.
The DP said the government will not hesitate to hand suspects over to other countries for prosecution should the requests be made.
Among the agencies working with Kenya are the DEA, a US enforcement agency under the US Department of Justice tasked with combating drug smuggling and use in US and abroad.
The agency shares concurrent jurisdiction with the FBI in coordinating and pursuing US drug investigations both domestic, and international.
-the-star.co.ke