ODM terms document on Nasa flag bearer as fake, blames Jubilee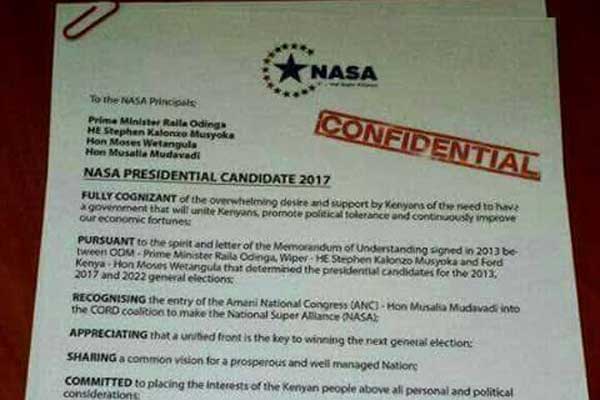 The Orange Democratic Movement has linked Jubilee to a "fake document" doing the rounds on social media indicating that the National Supper Alliance (Nasa) has already settled on a flag-bearer.
ODM Executive Director Oduor Ong'wen said the aim of the document is to "clearly" divert the attention of Kenyans from the fundamental issues contained in the Nasa coalition agreement and its official statement.
"Dear Jubilee, forgery needs a little intellect. Thanks to their reckless actions, Kenyans can smell Jubilee disinformation and misinformation from a mile away," Mr Ong'wen said.
The purported document marked "confidential" and seen by Nation.co.ke states that "…it is the decision of the Nasa steering committee that HE Stephen Kalonzo Musyoka be the 2017 Nasa presidential candidate, pending ratification of this decision by the Nasa delegates forum on 22nd March, 2017."
The letter, dated February 22, 2017, is purportedly signed by Siaya Senator James Orengo for the "Nasa steering committee", which Mr Ong'wen says does not exist.
"Nasa has never, doesn't and will in the foreseeable future not have an organ called the Steering Committee on behalf of which Senator Orengo is supposed to have signed the document," Mr Ong'wen said.
He clarified that Mr Orengo is the chairman of the Nasa National Coordinating Committee and not steering committee as purported in the "fake letter".
Mr Ong'wen said: "Fortunately, Kenyans recognise desperation when they come across it and therefore treat this latest of Jubilee's diversionary tactics with commensurate contempt."
Apart from the forgery of Mr Orengo's signature, Mr Ong'wen says, the author(s) display(s) total ignorance of Nasa.
"In spite of the fact that Nasa has not yet designed its official logo, the forgery has one," he said.
He accused Jubilee of having faked former ODM secretary-general Anyang' Nyong'o's and ODM chairman John Mbadi's signatures in the past.
But Jubilee nominated Senator Joy Gwendo defended her party from the accusations and challenged Nasa to put their house in order.
She said the purported document could have been created by one of the Nasa affiliate parties and not Jubilee.
"They are scrambling for the position of flag-bearer by themselves and should solve their internal suspicions and leave Jubilee alone," Ms Gwendo told Nation.co.ke by phone on Friday morning.
Nasa principals Raila Odinga (ODM), Musalia Mudavadi (ANC), Moses Wetang'ula (Ford-Kenya) and Mr Musyoka (Wiper) are seeking the Nasa ticket to face President Uhuru Kenyatta in the August 8 elections.
They have vowed to support whoever clinches the ticket.
Source link -nation.co.ke