Is President Uhuru Kenyatta isolating DP William Ruto?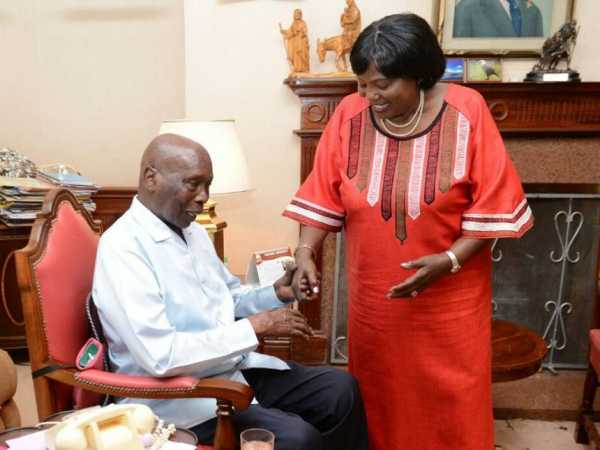 President Uhuru Kenyatta's pact with Kanu chairman Gideon Moi has been interpreted as a wider scheme to either slowly neutralise or even isolate Deputy President William Ruto.
Ruto's grip on the Rift Valley and specifically the Kalenjin community has been placed in an increasingly precarious position as it emerges that Gideon is working with Bomet Governor and Chama Cha Mashinani leader Isaac Rutto.
Their aim is to take as much control of the region's politics as they can, eating into Ruto's turf.
On Thursday, Kanu announced that it will support Uhuru's reelection but field its own candidates for other elective seats where it deems fit.
The deal is said to have been negotiated by President Kenyatta in person, sidestepping Ruto, who has long been seen as the de facto Kalenjin community leader.
The announcement by Kanu was made exactly a week after President Kenyatta paid a visit to retired President Daniel Moi at his Kabarnet Gardens residence, Nairobi.
Uhuru's mother, Mama Ngina Kenyatta, on January 21 made a courtesy call on Moi at his Kabarak home in Nakuru.
The newfound union between Uhuru and Gideon has raised eyebrows in Ruto's camp, with questions on the wider plan.
All indications are that Kanu will work with CCM to exert a grip on the Rift Valley to reduce the DP's grip on the region.
Today, Gideon and Rutto head to Narok county, where they will attend a ceremony at the home of Narok West MP Patrick Ntutu in the Olopirik area.
Gideon and Rutto have long been fierce critics of the DP and all his works.
Other Rift Valley rebels expected in the meeting are West Pokot Senator John Lonyangapuo, the vocal Emurua Dikirr MP Johana Ng'eno, his Kuresoi counterpart Zakayo Cheruiyot and Kanu Secretary General Nick Salat.
Gideon plans to capture more elective seats to influence policy at both the regional and national levels. At present Kanu has just 6 MPs and JP 164 (89 allied to Uhuru and 75 to Ruto).
The scheme will see Jubilee's elected Mount Kenya members try to dilute Ruto's influence at the party level.
Gideon aims to use numbers to portray Ruto as a weak DP, hence not in a position to perform strongly in the 2022 contest, a presidential transition race if Jubilee retains power on August 8 this year.
Ruto's political say, including formation of the next Cabinet, will significantly decline in case his wing loses a significant number of MP seats in the Rift Valley to Kanu and CCM, come August 8.
Those in the know have hinted that the deal Uhuru cut with Gideon includes Jubilee not fielding candidates for certain elective seats against Kanu, especially in the Rift Valley. This however has not gone down well with those Ruto's allies.
The DP's wing of JP has already identified the persons it wants to run for virtually all key posts in the Rift Valley.
Kanu has indicated that it will field candidates in the North Rift areas such as Elgeyo Marakwet, Baringo, West Pokot, Uasin Gishu and Nandi, while CCM will field in the South Rift, which includes Nakuru, Bomet and Kericho.
The pact between Uhuru and Kanu has deeply dismayed some of Ruto's allies. Ruto has publicly stated that he is Jubilee's automatic Presidential candidate in 2022, if the ruling party holds together before and after the 2017 polls.
He hopes to have an even more substantial number of MPs as well as governors allied to him after the August elections, who will eventually act as part of his springboard to State House.
The DP also expects President Kenyatta and the Mt Kenya region to automatically back his 2022 bid.
Last June, the President publicly assured Ruto of his support in his 2022 bid for State House. The assurance followed assertions by some Jubilee politicians that the DP does not have their guaranteed support.
The announcement by the President did not please key politicians from the Mt Kenya region, who quietly complained that Uhuru was setting up the community.
A number of MPs from Central complained that the community, especially its numerous members in the Rift Valley, could be isolated and possibly subjected to violence as happened in 2008 if it did not support Ruto in 2022.
This has apparently led State House to consider a countervailing force in the Rift Valley to work with as early as ahead of the August election.
"It is better we go to the August election with them [the Kalenjin community] knowing that our support for Ruto's 2022 bid is not automatic, instead of them believing we will support him and then something else happens," an MP from Central told the Star.
The mounting complaints by the Mt Kenya leaders are seen as part of the reason why the President reached out to Kanu – as a wider plan to keep Ruto in check.
Speaking to the Star on Saturday, National Assembly Deputy Speaker Joyce Laboso accused Kanu of attempting to sow discord within Jubilee by showing support for President Kenyatta's reelection on a conditional basis.
Laboso said claims by Kanu that it supports Uhuru but not DP Ruto were likely to cause animosity among leaders and even the electorates in the community and across the country.
"Kanu should stop giving us unnecessary conditions, Jubilee is not Uhuru alone," said the Sotik legislator.
Laboso said Kanu undermined the DP's role in the ruling party, where Ruto brought together all the 11 parties to form the Jubilee Party.
"Uhuru cannot be the party leader alone without the deputy party leader, and so Gideon and his ilk should bear in mind they are coming in, but that Ruto is the only de facto leader of the Kalenjin community," added Laboso.
Laboso warned Kanu to accept the fact that Ruto is the face of Jubilee in the Rift Valley and nobody can pretend to be working with JP and at the same time try to ignore the DP.
"Unless they are dreaming, it is not going to be possible to come to Jubilee with an agenda to isolate the Deputy President," she concluded.
Source link-the-star.co.ke