Detectives summon besieged Joho over 'fake' school papers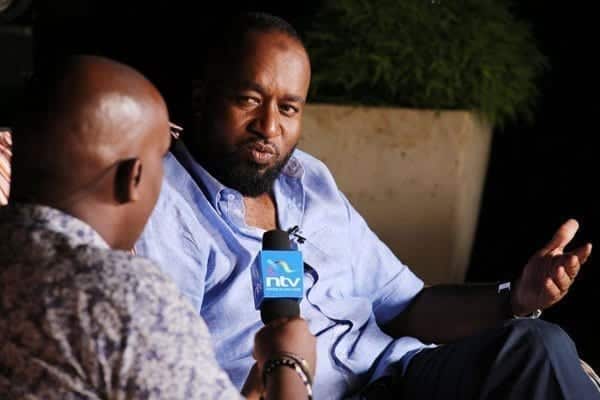 Mombasa Governor Ali Hassan Joho has been summoned by police to record a statement on his academic certificates after the national examinations body disowned his result slip as a forgery.
The Kenya National Examinations Council (Knec) wrote to the Director of Criminal Investigations claiming the 1992 Kenya Certificate of Secondary Education result slip that Mr Joho is alleged to have used to gain admission to the University of Nairobi was forged.
On January 26, 2017, the Knec acting chief executive officer, Ms M G Karogo, in a confidential statement of results addressed to the DCI, confirmed that a certain Ali Hassan sat his KCSE at Serani Secondary School in 1993 and scored a mean grade of D-. The grade does not qualify one for university admission and is not bridgeable.
This leaves Mr Joho in a delicate position because it could invalidate his two bachelors degrees — whose authenticity has been questioned — and expose him to criminal charges.
The popular governor, who has publicly taken on President Uhuru Kenyatta, is treating the police summons as "intimidation" after an angry Head of State threatened to "sort him out" following their latest spat.
"The intimidation continues," said Mr Joho on Monda. "Today (Monday) at 4:30 pm, I received a summons from Mr Pius Macharia to appear at the Regional DCI headquarters, Mombasa, and record a statement."
The summons, seen by the Nation, read: "I, Mr Pius Macharia, an Assistant Inspector-General of Police based at Regional DCI Headquarters, Mombasa, have reasons to believe you have reliable information which may assist in completing investigations in a case of forgery contrary to Section 345 as read with Section 349 of the Penal Code."
Citing Section 52(1) of the National Police Service Act, the summons required Mr Joho to "personally appear before Mr Samuel O Nyambengi, an Assistant Inspector-General of Police investigating the alleged offence, on 28th March, 2017 at 10 am at the Regional DCI Headquarters, Mombasa, for statement recording".
Mr Joho said the summons was delivered to him by Mr Macharia.
The Orange Democratic Movement (ODM) deputy party leader however said since he had already scheduled activities for Tuesday, he will appear before the DCI on Wednesday.
"Accordingly, I shall appear on Wednesday, 29th March, 2017 at 10:30 am for statement recording," Mr Joho said in response to the summons and added: "I know I will be vindicated once again and this will never deter me from pursuing the transformation agenda for my people."
When the Nation visited the school, the deputy principal said his boss was not in and ordered the guard to not to allow the team to take pictures.
In the evening, however, school principal Abbas Juma Ulaya admitted in a press statement that "Ali Hassan" was a "bona fide student in our institution between February 1990 and November 1993", having enrolled on "February 22, 1990 under admission number 326" and sat his KCSE in "November 1993 under index number 16032063".
Also on Monday, two men came out to claim that they sat the Form Four exam with Mr Joho at Serani in 1993.
Mr Juma Hamid and Mr Stephen Ochieng' spoke even as the University of Nairobi (UoN), an institution the governor is claimed to have enrolled in in 2009, declined to comment on the matter on grounds that it was under investigation.
"The matter is under DCI probe and the institution cannot comment on it," said UoN corporate affairs director John Orindo. "It is the DCI that can give information on the matter."
Earlier, the governor's spokesman, Mr Richard Chacha, had dismissed as "political propaganda" claims that Mr Joho used a fake result slip to get admission to university for an undergraduate degree in commerce.
Speaking during an interview in Mombasa, Mr Hamid and Mr Ochieng' said they schooled with the embattled governor from 1990 to 1993, when they completed their "O" level.
"I read from the Nation today (Monday) morning that the governor had fake certificates and I called my former classmate to share the news with them," said Mr Hamid.
"(The news) appeared shocking to all of us because we schooled with him from Form 1 to Form 4 and we even took pictures with him the day we finished our exams.
"If his certificate is fake, then how come I used my certificate to get a job? I have 19 years experience and my papers have not been termed fake."
Mr Hamid, who works at a Mombasa-based company, said it was confusing to see reports that Mr Joho sat his KCSE in 1992.
Mr Hamid said: "We finished school with the Joho I know in 1993. I have many other friends who can attest to that, but I do not know those doubting him. They know it better".
Mr Ochieng', who described Mr Joho as a cheerful deskmate, said it was laughable "to see people saying he (the governor) did not sit his exams yet we, the classmates, know better.
"I joined school in February and we attended school with him from Form 1 to Form 4. Our principal, Mr Mohammed Ali, can tell you more about him, but what I know is that we were with him and we finished school with him."
They said in school Mr Joho was interested in football and music. Other Mombasa residents expressed mixed reactions on the claims.
At the weekend, Mr Ananiah Mwaboza, a running mate for the Mombasa governorship on a Jubilee ticket, raised a storm when he claimed that Mr Joho used a forged result slip to get admission to university.
"There is no doubt that Joho forged the 1992 result slip, applied for admission to the  University of Nairobi for a BCom degree course, got admitted to the university as student number D33/27261/2009, paid university fees but never graduated," Mr Mwaboza claimed.
He added: "It is suspicious how the governor was able to do two degree courses simultaneously in different countries. He was doing a BCom at the University of Nairobi after enrolling on September 4, 2009 and a BA in Business Administration at Kampala University, for which he enrolled in 2009 and graduated with a degree on February 28, 2013."
But Mr Joho denied the allegation, with Mr Chacha terming the reports as "continuous but futile efforts by the Jubilee government to discredit Governor Joho".
 "Since 2013, the war has been going on," said Mr Chacha. "They started with their bloggers and then turned to the newspapers. There is nobody else in Kenya questioning the legality of Governor Joho's certificates except Jubilee. Why is that so?"
Mr Chacha said that Governor Joho sat his KCSE in 1993 at Serani Secondary School in Mombasa.
"The 1993 files containing names of all the KCSE candidates at the school are available," said Mr Chacha. "Anyone can walk there and verify the facts that Governor Joho was one of them. It is as simple as that."
The Knec letter said Ali Hassan, index number 16032063, got a D plain in Kiswahili, History and Government and Islamic Religious Education and an E in Mathematics, Physical Science, Biological Sciences and Commerce.
The results are corroborated by school documents, which give a list of 16 candidates for the 1993 KCSE. Hassan is candidate number 8.
The 1992 result slip, disowned as a forgery by Knec, shows a mean grade of C+ with Mr Joho scoring B plain in English, B- in Biology and Commerce, C+ in Chemistry and C in Kiswahili, Mathematics, Geography, as well as Social Education and Ethics.
Mr Joho's recent woes come two weeks after Mr Kenyatta said he will teach him a lesson. Mr Joho however maintains that he continue telling President Kenyatta "the truth".
Source link-nation.co.ke