Governor Ukur Yattani, four Marsabit MPs officially ditch ODM for Jubilee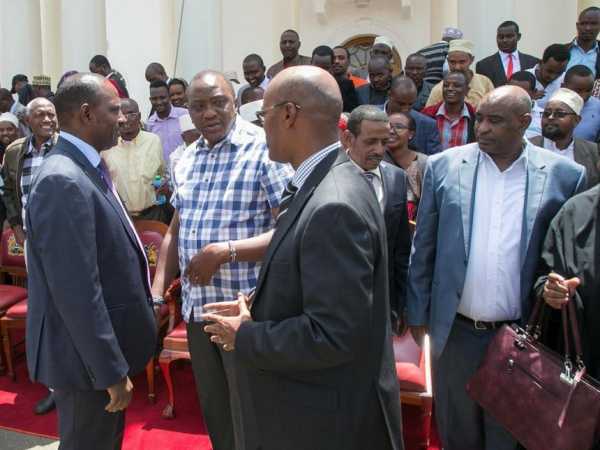 Marsabit Governor Ukur Yattani on Tuesday reaffirmed his decision to leave ODM for President Kenyatta's Jubilee Party.
He was received at State House alongside four MPs, 25 MCAs and more than 300 elders representing the county's 15 communities.
The MPs were Roba Duba (Moyale), Chachu Ganya (North Horr), Nasra Ibrahim (woman representative) and Joseph Lekuton (Laisamis).
Lekuton excused himself before the meeting to attend to an urgent matter. Ganya, Nasra and Lekuton all belonged to ODM.
Yattani becomes the latest among senior politicians who have defected from the opposition to rally behind Uhuru's re-election.
The Governor will seek reelection through the Frontier Alliance Party, adding that the outfit supports President Kenyatta.
"We have decided to leave the opposition because the people of Marsabit are very grateful for the work you have done for us," Yattani told Uhuru.
He lauded the President for tarmacking the Moyale-Nairobi road, adding that the 4-day trip now takes six or seven hours.
"Currently, there is a bus that plies Mombasa to Addis Ababa through Moyale. That is one of the reasons why the people of Marsabit will vote for you," he said.
Yattani said elective positions at the county will be competitive but there is a unanimous agreement to back Uhuru.
Ganya said leaders from the county supports the government because of its development record.
Duba said besides their preference for Jubilee's development agenda, they enjoy working with President Kenyatta.
"He is a President with no complications and all of us enjoy sitting down and working with him," Duba said.
Nasra for her part said they have formed their own party, which will work with Jubilee during the August 8 polls.
Marsabit has the distinction of being Kenya's largest county and is home to 15 of Kenya's 43 recognised ethnic groups.
It is also home to the Koobi Fora, known to archaeologists as the cradle of mankind.
On his part, Uhuru said he appreciates the position taken by the Marsabit Governor, MPs, MCAs and their supporters.
He assured them that he will not interfere with the choice the people of Marsabit will make during the polls.
"You are all mine. I promise that there will be no interference," Uhuru said.
"As you compete, do it in a civilised manner because at the end of the day the winner will be ours and the loser will still be ours," the President said.
The President said the Jubilee administration will continue working on measures to boost the economy of Marsabit county.
"The potential for tourism and livestock industry in Marsabit are tremendous," he said, pledging to launch works for a major dam in the area.
Governors Hussen Dado (Tana River), Salim Mvurya (Kwale), and Ken Lusaka (Bungoma) are among top county leaders backing Uhuru.
Taita Taveta Senator Dan Mwanzo and many more prominent leaders have also decamped from the opposition to support the President.
Source link-the-star.co.ke