Shahbal criticises Joho for flouting traffic rules on boda boda ride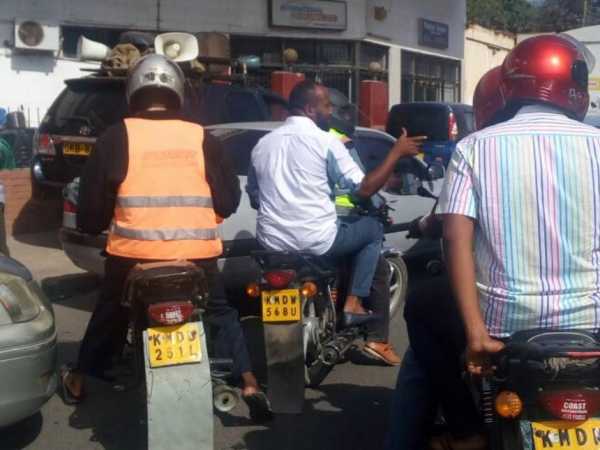 Suleiman Shahbal has criticised his troubled rival Hassan Joho for flouting traffic rules when he took a boda boda on Monday.
Joho, who is Mombasa Governor, resorted to this mode of transport after police blocked his motorcade while he was on the way to the President's Mtongwe ferry launch.
He told the press that GSU and Flying Squad officers told him they were under President Uhuru Kenyatta's instructions.
Shahbal, who will vie for Mombasa county chief, noted Joho did not have a helmet and a reflector jacket "as he tried to sneak past a police road block at Nyali bridge".
The Governor took the boda boda because of a huge traffic snarl up on North Coast roads as GSU officers manned Nyali bridge.
But Shahbal said on Tuesday that it is the county government that caused the traffic by removing their traffic marshalls from the roads.
He later withdrew the county marshalls' theory and replaced it with another, in which he blamed the Governor for mismanagement.
Ananiah Mwaboza, Shahbal's running mate, said: "He [Joho] will be arrested. He is not above the law."
Other Jubilee leaders in Mombasa told Joho off for "disrespecting" the President and "deliberately creating a chaotic scene".
The party's Mombasa chair Matano Chengo said the Governor will be treated according to how he conducts himself.
"If you behave like a Governor, you will be treated like a Governor. If you behave like a chokoraa [street urchin] you will be treated like a chokoraa," Chengo said on Tuesday.
The war of words between Joho and Jubilee leaders, led by the President, escalated on Monday during the Mtongwe launch.
Bones of contention include development, Jubilee and the Opposition's fight to control the Coast and the establishment of a dry port in Mombasa. This is aimed at easing the movement of goods through the Standard Gauge Railway.
The President said Joho had done nothing for the people and was only hanging on to the national government's coat.
"Clean the city. Do your job, don't follow us. If he plays with us we will flog him," Uhuru said.
"It is a sad thing to have leaders who don't understand … don't play with me … Mombasa is for everyone," he also said, adding Joho was following him as if he was his wife.
Source link-the-star.co.ke