It is Raila or loose, NASA committee warns principals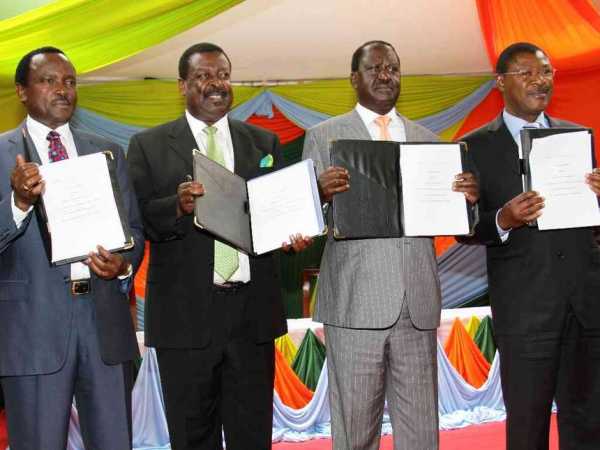 The technical committee tasked with recommending NASA's presidential candidate has emphatically said it must be Raila Odinga.
There's a ways to go but that signifies rough seas.
The committee warned that excluding the ODM leader and former Prime Minister would outrage his supporters and convert intact opposition bastions into battlegrounds with Jubilee.
According to five top academics, Raila remains the most formidable candidate and his stepping aside will not translate into automatic votes for any NASA principals.
The confidential recommendation has been presented to the National Coordinating Committee, NASA's political wing. The NCC will deliberate and make recommendations to the principals — Raila, Kalonzo Musyoka (Wiper), Musalia Mudavadi (ANC) and Moses Wetang'ula (Ford Kenya).
The committee includes economist Dr David Ndii, Nairobi University professor Dr Adams Oloo, Kabarak University law professor Elisha Ongoya, former member of the defunct Constitution of Kenya Review Commission Abubakar Zein and ex-Mumias Sugar Company chairman Dan Ameyo.
Despite the technocrats' unqualified verdict, Kalonzo's Wiper insists it's their turn to run for President, citing a 2013 MoU with Raila's ODM. It made Raila a one-term President who would support Kalonzo in 2017.
Either Kalonzo is the candidate or Wiper is out and "NASA is dead," it says.
This dispute threatens NASA unity and it is not clear how the opposition will navigate the growing discord, with only four months to the August 8 polls.
Today, the four principals Raila are to stage a rally at Masinde grounds in Nairobi's Mathare area.
This would be NASA's first rally in Nairobi, the country's political epicentre, since the coalition was officially formed on February 23.
NASA's steering committee said, "A major announcement is to be made that will significantly change the country's political landscape. All citizens of goodwill, yearning for change and aspiring for Kenya's prosperity, are invited to attend."
Sources familiar with NASA negotiations told the Star the technical team's analysis indicates that if Raila is not the flagbearer, nearly all ODM turf becomes swing-vote areas.
This means Jubilee's candidate, President Uhuru Kenyatta — and by extension other JP candidates — could harvest much more in perceived opposition areas thought to be under lock and key.
These include Coast, Western, Kisii and Luo Nyanza.
The analysis says only a Raila-led NASA will retain opposition strongholds and secure considerable votes in Jubilee zones of Central, Eastern and Rift Valley.
The analysis is based on results of the two previous elections, parties' presence in various regions and voter registration.
In 2007, Raila beat Kalonzo by a huge margin in Western, despite both having running mates from the same region.
Raila won 415,705 votes in Western against Kalonzo's 25,581.
Kalonzo choseJulia Ojiambo as his deputy, Raila chose Mudavadi.
In 2013, Raila thrashed Mudavadi in Central Kenya, despite the ex-Deputy PM having a running mate from Mount Kenya. Mudavadi teamed up with former Ndaragwa MP Jeremiah Kioni. Raila scored 2,889 votes in Kioni's Nyandarua backyard, compared with Mudavadi's 498.
Political analyst Kazungu Katana yesterday disagreed, however, with the analyses, while emphasising Raila remains the Coast's choice.
"In my understanding, the presidential candidate in the Coast region is Raila. And if he says today I am standing down for so and so, I can assure you the greatest majority will vote for the candidate. Of course, there will be pockets of protest," Kazungu told the Star.
Kalonzo and Mudavadi allies cite the Raila-phobia in Central Kenya as a major reason they are the best to penetrate Jubilee turf.
In a controversial commentary that irked Raila handlers, Wiper's Kitui Senate aspirant said if Raila is NASA'S candidate, Uhuru's second term is guaranteed.
"A Kalonzo presidency is good for every community in this country, including constituencies that largely align with the other side of the political divide," Enoch Wambua, former managing editor of The Standard, wrote on March 12.
"He [Raila] can also choose to bulldoze his way to the NASA presidential candidate and hand UhuRuto clear victory."
The former PM still has some loyal foot soldiers among the Kalenjin, despite the haemorrhage triggered by William Ruto's exit from ODM.
Recently, NASA caused a stir in Meru with massive rallies and Raila's grassroots networks are credited.
"Negotiations [on the presidential ticket] are ongoing. The committee have returned their verdict. Their analysis forms an important part of negotiations," our source said.
In 2013, ODM had two MPs from Meru: Tigania East's Mpuru Aburi and Igembe Central's Cyprian Kubai.
Last week, Wiper shook NASA by declaring Kalonzo must be the candidate — nonnegotiable
National Assembly minority leader Francis Nyenze, who sits in the powerful 12-member NCC, said it was imperative to implement the 2013 Raila-Kalonzo MoU.
"The reason there's a stalemate is because the MoU wasn't honoured and Cord was killed so we don't raise that issue. NASA came into being and when I asked about it [MoU] in the committee, I was told all those MoUs and agreements were buried in Cord," Nyenze told the Star.
An Infotrak poll showed Raila has 68.3 per cent support among NASA followers.
Kalonzo came second with 13.1 per cent, Musalia third with 12.3 per cent, Wetang'ula at 2.2 per cent.
Source link-the-star.co.ke