VIDEO: Uhuru's interview with Citizen TV news anchors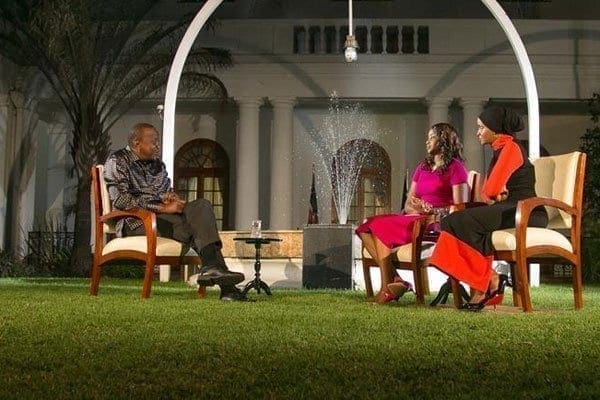 Uhuru-I have done a great job, I have no regrets: 
As he gets to the end of his first term, President Uhuru Kenyatta says he has no regrets for the job he sought in 2013 but admits it has not been an easy one.
In a 45-minute interview with Citizen TV's Nipashe at State House, Nairobi, President Kenyatta addressed issues ranging from corruption, the state of the economy, unemployment, the just-concluded doctors' strike, insecurity in Laikipia and Baringo, and trips he made abroad that were criticised by the opposition, a ballooning wage bill, the performance of his government, his recent trip to Somalia, and the upcoming Jubilee Party nominations.
"I have no regrets, but I admit it is not an easy job. It has no Sunday, it has no day or night. It is a full time job. Things happen all the time and they all require your attention," he said during the interview with journalists Lulu Hassan and Kanze Dena.
"It is not an easy thing to carry 40 million Kenyans on your shoulders," he said with a broad smile.
But at the end of the day, Mr Kenyatta said, it is a joy for him to see the progress of the projects his administration has initiated.
He said he no longer has time off or privacy, saying he is constantly on the public eye.
He spends his evenings with his wife Margaret since his three children Jomo, Jaba and Ngina are now adults, whom he said had moved out of the family home and were living on their own.
"Sasa ni mimi na mama tu. (Now it is only me and my wife)," he said with a hearty laugh.
On his relationship with his political rivals, the President said he does not hate any one, saying that his differences with Opposition leader Raila Odinga is only political.
"I do not hate anyone. I refer to him as ndugu yangu (my brother) each time we meet. Political differences is not enmity," he responded in reference to the ODM leader.
"We are friends. I consider him my friend, unless he wants to say he is not."
WAR ON GRAFT
On the foreign trips he made, which the Opposition criticised him for saying they were a waste of public resources, President Kenyatta defended them, saying they were for the benefit of the country and he could enumerate them.
For instance, in India, he said his visit had borne a deal to build a cancer treatment facility in the country, which he said would save lives.
In France, he said he had inked a deal for the return of the famous Peugeot vehicle's assembly plant.
"You called me a tourist. But no man is an island. If you want to succeed, you must go out there," he said of the trips, which had by end of 2015 surpassed President Mwai Kibaki's 10-year reign by 10 trips.
When asked why Kenyans should re-elect him in August, he said they had initiated lots of development projects more than any other government since independence.
"We started a journey, but we are yet to reach our destination," he said.
He singled out provision of electricity under the Last Mile project, the building of roads and expansion of the Port of Mombasa as some of his signature projects that are changing lives.
President Kenyatta insisted that he had done all within his constitutional mandate to fight corruption in government.
"We have done all we need to do under the Constitution. We have prosecuted the highest number of corruption cases including ministers and PSs and whenever anyone is mentioned (in graft), I have said step aside," he said.
He argued that after doing his bit, he expects the independent offices such as the Judiciary, the Ethics and Anti-Corruption Commission, and the Director of Public Prosecutions to do its part, saying he had funded them and had no influence on them.
"I wish we had the old Constitution, you would have seen the difference. But I swore to defend and protect the current Constitution," he said.
DOCTORS' STRIKE
On the independent agencies, he said: "My relationship with these institutions is to ensure all the support they need and a conducive working environment. If they fail, what else should I do? I have done my bit."
On Jubilee nominations, he said he had no preferred candidate with the primaries.
However, he said he will be available as an "honest broker" in case any of the aspirants reach out to him.
In Nairobi, the President said he wants a Jubilee member as governor.
"What we are looking for is for our party to win and get a Nairobi governor, and I respectfully ask wananchi to please give us a Jubilee governor in Nairobi. Whoever it will be, wananchi will decide," he said.
In responding to a question on how, on a personal level, he was affected by doctors' strike that ended after 100 days, he said it made him "feel very bad".
"I was very unhappy as a human being and decided around Christmas to talk to these young people, and pleaded with them to go back to work, only for them to turn back and continue with their strike.
"I knew they have problems. But they have a bigger task, and have taken the Hippocratic Oath to save Kenyan lives," he said.
On why the government took too long to act on the insecurity in Baringo and Laikipia counties, he said the government had decided to give negotiations a chance.
"As a leader, you start by seeking consensus, holding peace rallies and bringing people together. That is how we started because we did not want to use force, given that there was a drought," he argued.
"But now, we have reached a point where you cannot allow people to kill innocent women and children. We have been a patient and listening government, but we are also a government that cannot take that kind of madness. They have crossed the red line."
Source link-nation.co.ke