Delays in Busia ODM primaries as Ojaamong, Otuoma face off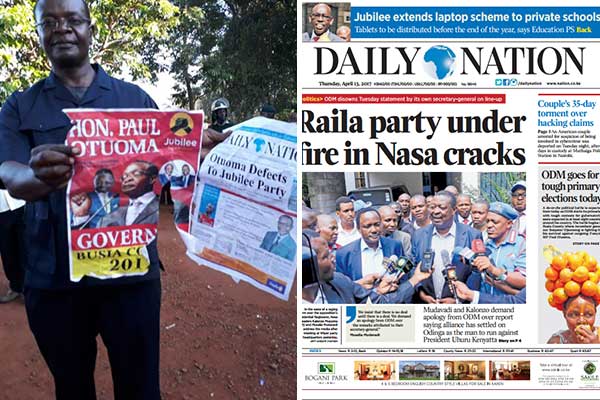 ODM nominations in Busia County did not start on time as had been planned in Busia, Bungoma and Machakos counties.
In Busia, the battle between Governor Sospeter Ojaamong and Funyula MP Paul Otuoma played out, with the governor accusing Dr Otuoma of being fronted by Jubilee.
Earlier, a fake newspaper article doing the rounds claimed that Dr Otuoma had defected to Jubilee.
However, Dr Otuoma described the fake news as a creation of his detractors who are hell-bent on bringing him down.
"My opponents have been trying to peddle this rumour all along just to bring me down but that will not happen. I am confident of clinching the ODM certificate," he told reporters in Bumala on Thursday morning.
But Governor Ojaamong insisted that Dr Otuoma is a Jubilee candidate masquerading as an ODM contender.
"(Dr) Otuoma is a Jubilee candidate. He is being funded by Jubilee. Even our party leader knows that," said Mr Ojaamong at Busia Township Primary School on Thursday.
The governor distanced himself from the fake news showing that Dr Otuoma had defected to the Jubilee Party.
Busia Governor Sospeter Ojaamong speaks on April 13, 2017 during ODM primaries. He is battling for the for the ODM ticket with Funyula MP Paul Otuoma. PHOTO | TONNY OMONDI ~ NATION MEDIA GROUP
Butula police boss Stephen Wambua said his officers were investigating the source of the fake news.
"The matter has been brought to our attention and we are doing investigations," said Mr Wambua.
On Wednesday, leaflets claiming that Dr Otuoma had joined Jubilee were circulated in Butula Sub-County.
They claimed that the Funyula MP would vie for the governorship on a Jubilee ticket with Budalang'i MP Ababu Namwamba as his running mate.
The leaflets, a poster of him with Mr Namwamba and another one of a fake Daily Nation front page reading "Otuoma Defects To Jubilee" were circulated in Bumala and Butula towns.
Addressing journalists at the Bumala Police Station after recording a statement, Dr Otuoma pointed an accusing finger at his opponents for spreading "cheap propaganda".
"This looks like something that was planned a long time ago. On Thursday it was published in some section of the media that my development record in Funyula was poor.
"Today they said there will be no election in Butula just to make sure turnout is low in areas [where] I enjoy massive support," said the legislator.
Source link-nation.co.ke