KDF kill 52 Al-Shabaab militants in Somalia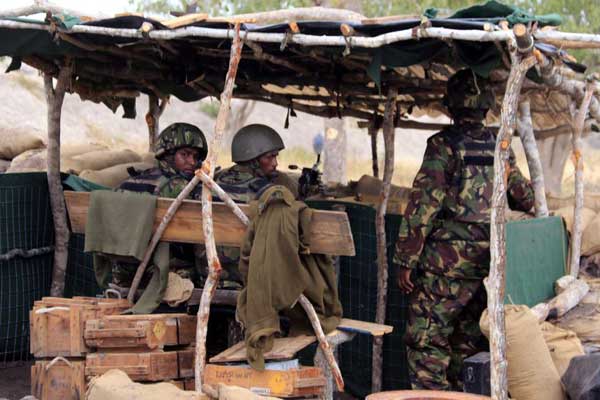 Fifty-two Al-Shabaab terrorists have been killed in a raid on their camp in Somalia by Kenyan troops.
Kenya Defence Forces (KDF) spokesman Joseph Owuoth said the 1am raid on Friday was carried out by ground troops supported by mortar and artillery fire.
The camp was located nine kilometres North of Sarina in Badhaade, Lower Juba.
"The intelligence led operation was executed after surveillance assets sighted Al-Shabaab terrorist concentration in the location. Ground troops supported by mortar and artillery fire were employed to neutralise the camp thereafter," said Colonel Owuoth.
Many other terrorists fled the battleground, leaving behind seven AK-47 assault rifles, a machine gun, two phones, 104 rounds of ammunition, three home-made bombs, bomb-making materials and food.
"KDF wishes to assure the public that operations against Al-Shabaab will continue until all terrorists are eliminated in order to ensure Kenyans and their neighbours enjoy peace and security," Col Owouth added.
The troops are serving in the neighbouring country under the African Union Mission in Somalia (Amisom).
The Somalia-based terrorist organisation with links to Al-Qaeda has suffered devastating loses in a series of similar raids by the KDF in recent weeks.
A senior Al-Shabaab commander, Bashe Nure Hassan, was killed along with one of his lieutenants on April 8.
Two days later, 15 other terrorists were killed when Kenyan troops stormed their camp near Catamaa, about 104 kilometres from the border town of Elwak.
In yet another attack, 31 Al-Shabaab militants were killed after the KDF raided the terrorists' bases in Badhaade on March 26.
On March 2, 57 more terrorists were killed in a KDF operation in Afmadhow, near Subow.
An assortment of arms, pickup trucks mounted with machine guns, ammunition, home-made bombs and other combat gear belonging to the terrorists were destroyed.
Kenya first deployed soldiers in Somalia in October 2011 in Operation Linda Nchi before they were amalgamated into Amisom the following year.
Source link-nation.co.ke