Kenyan-born lawyer Lucy Gichuhi will likely succeed Senator Day in Ausrtralia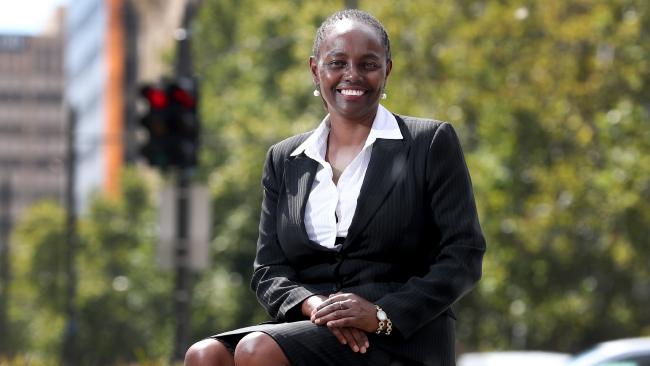 Kenyan-born lawyer Lucy Gichuhi, 54, is the woman most likely to take Family First senator Bob Day's seat when parliament ­resumes on May 9.
But her path to the Senate will be as accidental as Mr Day's departure was chaotic, in the wake of his company's collapse and a High Court ruling his election invalid.
With the High Court expected to order a recount by the Australian Electoral Commission in the next few days, Ms Gichuhi may be Australia's first African-born senator when business resumes in eight weeks.
Born in central Kenya before moving to Nairobi, Ms Gichuhi migrated to Adelaide with her family in 1999 and became involved with the Family First party soon after it began in 2001.
Initially "too busy being a mother" to engage in politics, she pursued an accounting career with Ernst & Young and later with the South Australian Auditor-General's Department where she ­developed programs introducing migrants and international students to the state.
But "one thing led to another" and, after graduating with a bachelor of law from the University of South Australia in November 2015, Ms Gichuhi was endorsed as the second candidate on Mr Day's ticket at last July's election.
She had "moved on" after missing out on a Senate seat, volunteering as a family lawyer with the Women's Legal Service in Adelaide for the past several months.
She was shocked to learn of her second chance yesterday, and paid tribute to Mr Day as the man who "made her" and encouraged her to run for politics.
"I got to know Bob day before I became his No 2,'' she said.
''I understand as an accountant the whole collapse of his empire. I understand from a professional standpoint and I'm really really sorry for Bob.
''I'm sorry for him and my heart goes out to him and his family.''
Closest to her heart are issues relating to migrants and women.
"I think I bring a different and new perspective and experience from somebody who has settled in the country in the last 19 years,'' Ms Gichuhi said.
"I've seen troubles with people who have settled in the last 15 years. I've seen a bit of struggle in that area especially with women's legal services. I get that all the time."
Ms Gichuhi is married to ­William, an engineer with power transmission company ElectraNet, and has three adult daughters, the youngest of whom is 20
Source link-theaustralian.com.au
Kenyan-born lawyer Lucy Gichuhi will likely succeed Senator Day in Ausrtralia