Why Raila might not be on the ballot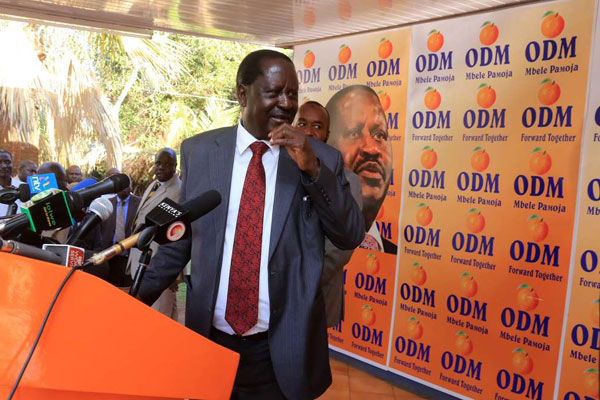 A lobby group wants the electoral body to lock out Opposition leader Raila Odinga from vying for the Presidency in the August 8 polls on grounds that he is unfit to hold public office.
In a suit filed by Human Rights Africa, the lobby wants the Independent Electoral and Boundaries Commission (IEBC) to declare the Orange Democratic Movement (ODM) leader unfit to hold office in line with the Leadership and Integrity Act.
They also want the court to declare IEBC to be in breach of the Constitution for failing to initiate investigations against the former Prime Minister despite a formal complaint it lodged over allegations against Mr Odinga.
The lobby has sued Mr Odinga, IEBC, the Ethics and Anti-Corruption Commission (EACC), the Director of Public Prosecutions (DPP), the Attorney-General and the Commission for University Education (CUE).
The lobby claimed that it had raised a complaint before the IEBC over allegations against the Opposition leader over misappropriation of public funds and abuse of office during his tenure as the PM.
But they claimed that IEBC failed to respond to them or even instigate investigations on the matter yet Mr Odinga has already expressed interest to participate in the August General Election as a Presidential candidate.
"In view of grave allegations touching on the integrity of Mr Odinga, the IEBC should declare him unfit to run public office and in specific the office of the President pursuant to requirements of Chapter six of the Constitution," the lobby said.
In their case documents, a Mr Derrick Malika claimed that there was uncertainty on academic credentials of the Opposition leader since the institution in which he is said to have earned his degree from, only became a university recently.
According to Mr Malika, Mr Odinga has only publicly produced a certificate of higher education from Herder Institute, Leipzig in Germany, having been there from1962 -1965.
He also claimed that there have been allegations linking the defunct office of the Prime Minister, Mr Odinga himself or his associates to mismanagement of funds.
He has listed several instances such as the matter involving extortions in the Dominion farms, losses at Kenya Airways due to links to a company linked to Mr Odinga (Astral Aviation limited) and alleged irregular purchase of Kisumu Molasses plant, Spectre International ltd.
He also alleges that the World Bank financial management team's report cleared others except the office of the PM for the Kazi kwa Vijana project over irregular payments.
"It is quite clear that there are numerous questions that linger over the education, integrity and financial probity of a possible Presidential contender," he said.
Source link-nation.co.ke