Miguna Miguna selects James Gathungu as running mate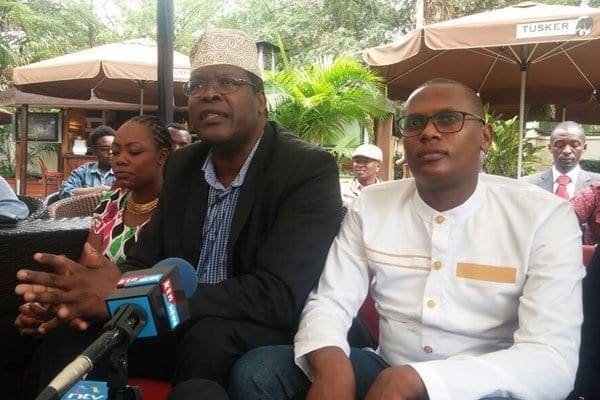 Nairobi governor aspirant Miguna Miguna Saturday unveiled 24-year-old former Laikipia University student leader James Karihe Gathungu as his August elections running mate.
Mr Miguna described his move as a spirited bid to inject youth blood into the city leadership that he said was lacking.
"Kenyans have functioning brains. They can tell the difference a transformative leadership and one based on impunity. And we are not afraid of anybody. They can come with any money they have stolen and we will deal with them," said Mr Miguna when he unveiled Mr Gathungu at a Nairobi Hotel.
Mr Miguna, who announced his bid for Nairobi governor in March 2016 as an independent candidate, said that such aspirants had the right to run.
"Independent candidates are not going to beg anyone to run. We are occupying a space guaranteed by the constitution," said Mr Miguna.
Mr Gathungu, a soft-spoken 24-year-old who graduated in 2015 with a Bachelor of Science in Statistics from Laikipia University, said he had all it takes to be the city deputy governor.
"And I am proud to run with a man who will be one of the great governors of this century, Miguna Miguna.
Our faith that we can shape a better future is what the Nairobi dream is all about," said Mr Gathungu.
He went on: "A future free of huge traffic jams, a future where Nairobi will compete to be the best investment destination globally. The promise of our county is that the rules are fair. If you work hard and play by the rules, you can earn your share of Nairobi's blessings."
For Mr Miguna, the fight for the Nairobi governorship is one to clean it of impunity and what he said was endemic corruption.
"We cannot have a city run by thugs: A basket of deplorables!" he said.
Source link-nation.co.ke