Mt Kenya supports NASA, Raila says after receiving Koigi Wamwere
Mt Kenya supports NASA, Raila says after receiving Koigi Wamwere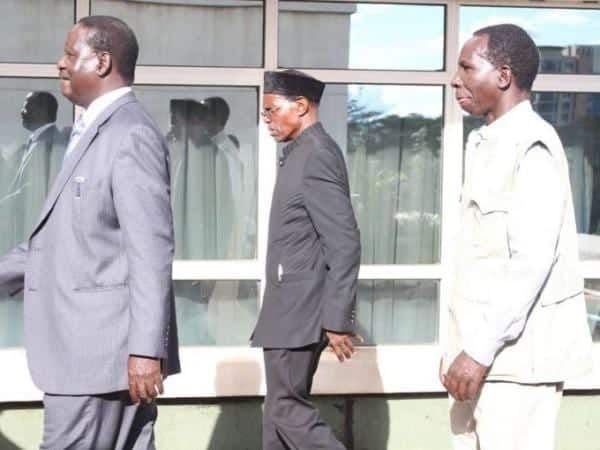 Koigi Wamwere and former Cabinet Minister Kirugi M'Mukindia have joined ODM and endorsed Raila Odinga for the presidential race.
Raila, who is leader of the party and National Super Alliance flag bearer, received them at his Capitol Hill office in Nairobi on Thursday.
Koigi said his decision to work with NASA was personal.
"There are two political coalitions that we must work with. To win, we must choose one over the other," said the former Nakuru North MP.
Turning his back against President Uhuru Kenyatta, whom he has been supporting since 2013, the politician said he cannot be among those who want Kenyans to "remain in the desert".
"I wish my brother Raila all the best in his quest to lead us to the Promised Land. We won't agree with those who would like to take us back to the desert," Koigi said.
Koigi was in the nominations for Nakuru senator which Speaker Susan Kihika, a Jubilee candidate, won.
M'Mukindia said the NASA leader has demonstrated democracy by endorsing candidates from Mount Kenya.
"Leaders have come and gone but there is no change. So I looked for a leader who will bring change and I saw that in the team called NASA," he said.
"I come from Meru…the message I get on the ground is that people are dissatisfied. Time has come for leaders not to bury their heads in the ground."
Raila said the two will formerly be received by NASAduring its national convention at Kasarani Stadium.
"Koigi and I have history. We were detained several times by previous regimes for our stand for change in this country," he said.
"So we welcome his decision to team up with us as we move towards the general election."
The Opposition chief said the notion that Mt Kenya people do not support NASA has now been overturned.
The region is perceived to be a Jubilee stronghold and most leaders from there have endorsed Uhuru's re-election bid.
"People in Mt Kenya are largely in NASA. It is the leadership that has been lagging behind," he said.
Source link-the-star.co.ke