The transformation of Martha Karua and Ababu Namwamba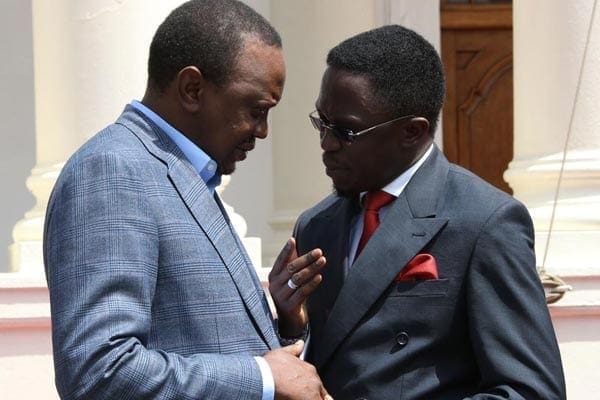 Budalang'i MP Ababu Namwamba entered Shimba Hills Room at the tail end of the entourage of politicians who accompanied President Uhuru Kenyatta to the presentation of his nomination papers at KICC.
But as the party moved to the stage erected at the open grounds outside the convention centre in Nairobi, the man in a black suit and a green tie had jostled his way to the front alongside the youthful masters of ceremonies and the Jubilee Party's headliners.
CHEERING
Next to Mr Namwamba on the stage, resplendent in a green dress with red  and white flowers and a green cap with the red flower of her party, was Martha Karua, who is looking to be the next governor of Kirinyaga.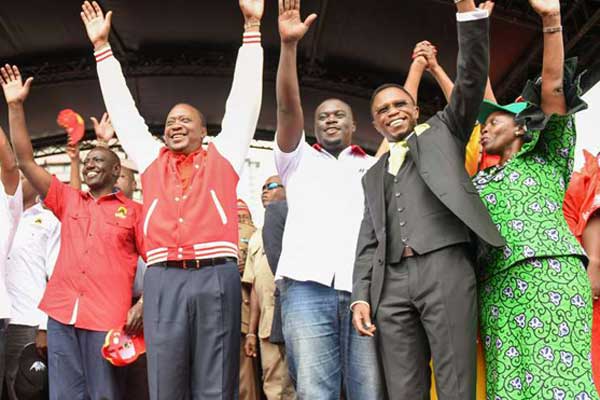 Narc Kenya leader Martha Karua (right) and Labour Party leader Ababu Namwamba (second right) cheer after President Uhuru Kenyatta was cleared to contest in August 8 elections by IEBC on May 29, 2017. PHOTO | PSCU
The two were cheering along with the crowd that had come to celebrate the nomination of two people with whom they have previously sworn they would never associate themselves with.
Ms Karua was Justice minister in 2009 when rumours began to emerge that she was planning to form a political alliance with William Ruto, who was then Agriculture minister and under pressure over a scandal involving the sale of maize.
She was asked about it late on a Tuesday at her then Cooperative House office.
"It would not be prudent at all to want to be associated with the kind of baggage he is associated with," she said in her characteristic forthrightness.
'MOLE'
"I don't think any politician should associate him or herself with anybody suspected of corruption or violence."
Mr Namwamba was until July 2016 the secretary- general of the Orange Democratic Movement, one of the country's biggest parties.
President Uhuru Kenyatta with Labour Party leader Ababu Namwamba (right) at KICC after the party endorsed his re-election bid on May 19, 2017. PHOTO | JEFF ANGOTE | NATION MEDIA GROUP
Plagued by accusations that he was a Jubilee mole, the eloquent lawmaker would memorably say, "The blood of Ababu Namwamba is so incompatible with that of Jubilee that if you mixed the two you would get a fatal blood clot."
The two will be hoping that these two statements are forgotten as they have lined up on the side of Jubilee.
At the KICC grounds, Mr Namwamba defended his decision to join the Jubilee through his Labour Party of Kenya.
RIDDLES
"For those asking themselves, 'Why is Ababu here?' the answer to you is this: Only a fool never changes his mind. When you ask, 'Why is Ababu here?' I tell you, a good idea must give way to a better idea. I have run with a good idea before, today I run with a better idea of Uhuru Muigai Kenyatta."
He also took a dig at his former boss in ODM, saying that when the Luhya community depended on him, he gave them riddles.
Mr Namwamba also cited the development he said the people of Budalang'i have seen under the Jubilee government and asked President Kenyatta to go and commission Sigiri Bridge, which he said had saved lives.
He also appeared to have elbowed aside Mumias East MP Benjamin Washiali and Bungoma Governor Kenneth Lusaka from the Jubilee frontline, using his four-and-a-half minute speech to drum up support for Johnson Sakaja for Nairobi senator while assuring members of the Luhya community that they have a place at the Jubilee table.
UHURUTO
Ms Karua struck the same note, saying that her Narc-Kenya had endorsed the Jubilee duo for another term.
President Uhuru Kenyatta listens to Narc Kenya leader Martha Karua shortly after he was endorsed as the party's presidential candidate at St. Andrews Hall Nairobi on May 6, 2017. PHOTO | ANDREW KILONZI | NATION
"I am here to assure you that I am behind Uhuruto and that Narc-Kenya supports President Kenyatta and his running mate Ruto," she said.
Support for President Kenyatta aside, Mr Namwamba and Ms Karua have their own political careers to fight for.
Ms Karua is in competition with former Devolution Cabinet Secretary Anne Waiguru for the Kirinyaga governor's seat.
Ms Waiguru's confidence was boosted by her comfortable win over Kirinyaga Central MP Gachoka Gitari and Governor Stephen Ndathi in Jubilee primaries.
CORD
But with Mr Gitari then joining Ms Karua as her running mate, and Ms Karua's repeated appearances alongside the Jubilee top officials, perhaps Ms Waiguru would have some reason to be afraid.
Ms Waiguru also has the integrity issue raised by the Public Accounts Committee, and endorsed by the National Assembly to deal with.
For Mr Namwamba, crossing over to Jubilee marks the termination of connections with Cord, and he will be hoping that the fact that two of the western region's most significant leaders in Moses Wetang'ula and Musalia Mudavadi doesn't ruin his chances to defend his National Assembly seat.
If he doesn't get his parliamentary seat back, he would perhaps hope to be accommodated in the second Jubilee administration if it is to succeed on August 8.
Source link-nation.co.k