Blowing whistles is your only achievement, Wandayi told as Ugunja MP race hots up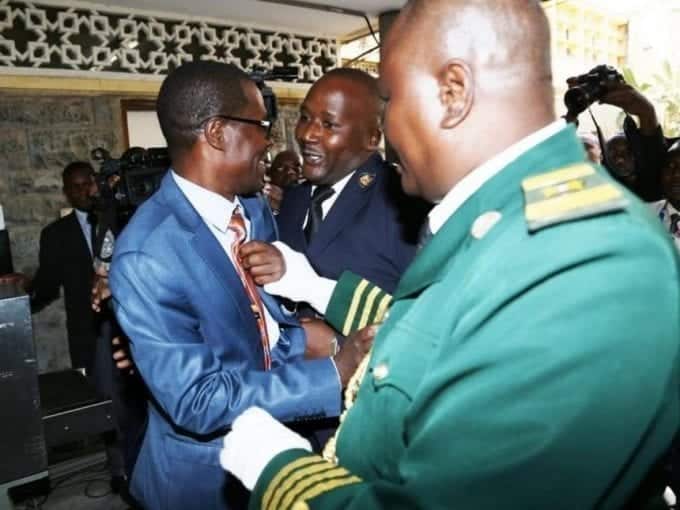 Two former councillors have castigated Ugunja MP Opiyo Wandayi for failing the electorate during his term in office.
The duo, allied to Wandayi's opponent Otieno Alur (Ford Kenya), said on Monday that the legislator's major achievement was to "blow a whistle in Parliament."
Sylvester Wire and his nominated counterpart Joakim Odido said the MP was a big let down to his constituents who face a myriad of social problems.
Wire claimed the legislator has abdicated his role at the constituency and instead invested a lot of time and energy engaging in national politics.
"We did not send him to go and blow a whistle in the assembly as if that is an achievement to residents of Ugunja," he said.
Wandayi hit the headlines when he disrupted President Uhuru Kenyatta's State of the Nation Address in March 2016.
Together with other opposition MPs, they blew whistles in protest forcing Speaker Justin Muturi to declare a standing order that the President shall be heard in silence.
The ex-civic leader drew a major contrast between Wandayi and his Ugenya counterpart David Ochieng, whom he said has initiated unrivaled flagship projects.
He cited Ugenya TTC, Agroforestry college, and Ugenya Technical Training College and the Kenya Medical Training College.
The leaders, who were accompanied by Siaya woman representative aspirant Florence Aluodo, spoke at Dendyo during the launch of Alur's campaigns for the MP seat.
They asked the electorate not to be swayed by the call for six-piece voting on August 8 so that they get rid of inept and inefficient leaders.
Aluodo asked the public to elect Alur saying he has been consistent in his ambition to develop the constituency.
Alur said if elected, he would ensure that the perennial water shortage affecting residents is solved.
The Ugunja MP seat has attracted Tom Nduku (independent), MJ Okumu (Independent), Alur (Ford Kenya) and Wandayi (ODM).
But in his response, the legislator dismissed Alur as a Jubilee Party agent and an apologist of Uhuru's administration.
"He suffers from chronic ideological disorientation. He seems not to have any idea why he wants to be voted to Parliament," he said.
"I've beaten him in the past and I will do it again in August. He is a perennial contestant and serial loser."
The legislator said he has achieved a lot towards uplifting the living standards of Ugunja residents.
Source link-the-star.co.ke