VIDEO: There is nothing wrong with forcing Mutua supporter out of matatu – Kalonzo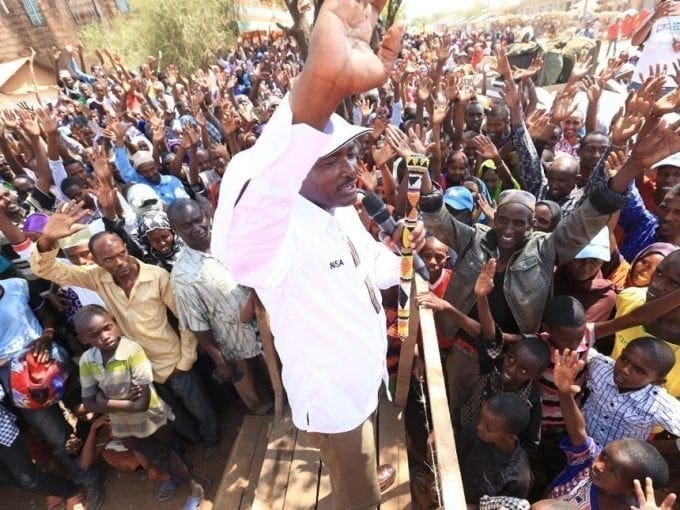 Kalonzo Musyoka has stunned Kenyans by saying there is nothing wrong with "forcefully sending a man out of a matatu" for supporting Machakos Governor Alfred Mutua.
A video that circulated on social media last week showed a man being ejected from a matatu for supporting Mutua's re-election.
The man was chased by female supporters of Wavinya Ndeti, who has now received the High Court's approval to vie against Mutua.
"Mimi nimestaajabu ya kuwa akina mama wanafukuza watu kwa matatu… watu wameerevuka siku hizi (I was shocked that women chased people from a matatu. People have become intelligent," Kalonzo said in Nairobi on Wednesday.
In the video, two women shout at the man telling him to alight because he is a traitor who does not deserve to ride with them.
In the recording, other passengers, some male, are heard supporting the man's ejection.
One of the irate women identified as Rozinna goes ahead to give the matatu conductor money to refund the man's bus fare.
"What is Chap Chap? You look like [Francis] Nyenze. Alight from this matatu. Here is a refund of his fare. Get him out," one woman says.
Mutua's party is known as Maendelo Chap Chap while Nyenze is Kitui West MP and National Assembly minority leader.
Wiper distanced itself from Nyenze after openly supporting Jubilee Party leader Uhuru Kenyatta's re-election.
The man defends himself saying he was talking about 2022 politics, not this year's August 8 general election.
But the women cut him short saying he should simply get out of the vehicle.
"Why are you disrespecting Kalonzo? Get out! If you want more fare, we will give it to you but you have to go," one says.
The man tries to calm them down saying he has listened to their concerns but they reply with "2022 will be Kalonzo's turn".
NO TO VIOLENCE
In May, the United States asked politicians to keep off violence ahead of the August election and instead engage in issue-based campaigns.
Kenya has been concerned about poll violence since the chaos that followed the disputed 2007 election. At least 1,300 people were killed and more than 600,000 left homeless.
President Uhuru Kenyatta has warned that violence will not be tolerated and that anyone who attempts to disrupt the peace will be punished.
Last month, US Ambassador Robert Godec said they have no preferred candidates or political parties since the election is about Kenyans.
"Let the campaigns be aimed at addressing issues facing citizens, not inciting them," he said.
Source link-the-star.co.ke