Hundreds of title deeds revoked in cleanup of land records

Hundreds of title deeds revoked in cleanup of land records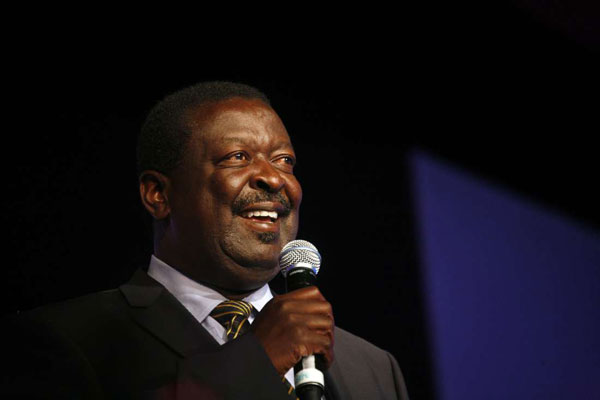 National Super Alliance co-principal Musalia Mudavadi and independent presidential candidate Joseph Nyagah are among hundreds of Kenyans who have lost thousands of acres whose title deeds have been revoked in a massive and unprecedented cleanup of land ownership records across the country.
The National Land Commission accuses Mr Mudavadi of having been irregularly allocated public utility land in Woodley, Nairobi, reserved for county government housing and has revoked the title deed. It has also repossessed two pieces of land each measuring 0.050 hectares (0.12355 acres) in Kanyakwar in the outskirts of Kisumu and returned them to the commissioner of lands.
GOLF CLUB
A piece of land owned by Mr Mudavadi's father Moses has also been reverted to Kakamega Golf Club, while Kenya's permanent representative to Unesco, Prof George Godia, has lost land, which the commission says belongs to the prisons department in Eldoret.
Most of the affected by the cancellations contained in a special July 17, 2017 KenyaGazette notice issued by the commission are politicians, former top civil servants, lawyers and businessmen.
In the 77-page special issue, commission chairman Muhammad Swazuri says the NLC carried out a review of the grants after receiving complaints from the national government, county governments and the public.
"The commission via public notices in the national dailies invited all interested parties to appear before it to inspect documents and make written and oral representations and submissions," he says in the document's foreword.
"Consequently, the commission has made determinations in respect of the following grants/titles and orders for revocation, regularisation, upholding of the titles where applicable as indicated or given further orders. Where the order calls for revocation, the Chief Land Registrar is thereby directed to revoke as per Section 14(5) of the National Land Commission Act and attendant laws."
OWNERSHIP DISPUTES
This is an attempts to address the issue of public land grabbed by influential public servants, politicians and businessmen across the country as well as resolve ownership disputes most prevalent in the coast.
The move is expected to spark a legal battle between the NLC and the affected parties and it also leaves banks, which had taken the title deeds as security for loans, holding worthless pieces of paper.
Current Kasarani MP John Njoroge has lost parcels of land that originally belonged to two unnamed primary and secondary schools in Mwiki, Nairobi. The commission has ordered that the parcels be vested in the Treasury Principal Secretary in trust of the schools.
SAM ONGERI
Kisii County ODM senate seat candidate, Prof Sam Ongeri, has lost a piece of land that has been reverted to the Kisii County Government for the construction of a market. Prof Ongeri acquired the land in the 1990s, while he was a Cabinet minister in the Kanu administration.
Businessman Jared Kangwana, who owns Monarch Insurance Company Ltd, has also lost land, which has been given back to the Kenya Agricultural & Livestock Research Organisation in Kisii. Former Kisii Kanu branch chairman Geoffrey Asanyo's land in Kisii has also been reverted to Kalro.
Former commissioners of prisons Abraham Kamakil and Edward Lopokoiyit and former Eldoret North MP William Morogo Saina are among 118 people and entities whose land in Uasin Gishu has been reverted to the prisons department.
WOODLEY ESTATE
Former CID boss Noah arap Too, former Nairobi City Council Chairman Kimani Kongo and James Gachagua, a brother of former Nyeri Governor Nderitu Gachagua, have also had their parcels of land in Woodley Estate repossessed.
Others who have lost plots in the estate are former Nominated MP Mulu Mutisya, city lawyer Ken Ogeto and Mr Wilson Kipkemboi Kipkoti, a former director of Prudential Building Society, who is currently facing charges of defrauding the bank, leading to its collapse.
Alliance Hotels Limited, which is owned by the ailing veteran politician Kenneth Matiba, has lost three parcels of land in Kwale, with the commission ordering that they be reverted to Mohamed Mbaruku and Ali Mohamed Heri (Plot No. 667), Hamii Ayub Mwanjiti (Plot No. 668) and Omari Bakari Mwachala (Plot No. 669).
NYANZA PC
Pieces of land belonging to the family of former Kenya National Union of Teachers chairman John Katumanga and former Nyanza Provincial Commissioner Paul Olando have been reverted to Kakamega Golf Club, which has had 14 titles revoked in its favour.
Ownership documents belonging to Mr David Ogoti Ongarora, a renowned businessman in Kisumu and which originally belonged to the Housing and Urban Development ministry, have also been cancelled. A total of 16 plots in the town have gone back to the ministry.
The commission has revoked all allocations done by Kisumu Municipal Council, the predecessor of the County Government of Kisumu, in Kanyakwar, Mamboleo and Kibos on the outskirts of Kisumu town, the scene of long drawn out land disputes dating back to 1967, but upheld all the allocations by the Commissioner of Lands. As a result, 115 people and entities have lost titles to their lands, while 82 have had theirs upheld.
A MARKET
Ali Sheikh Mohamed and Farah Mohamud Barrow, who own Alfa Traders Ltd, have lost a piece of land vested in the County Government of Nairobi in Eastleigh, meant for construction of a market.
The commission has also regularised and upheld titles and grants of hundreds of pieces of land being contested by various parties. It has, for example, directed that a lease be given to land held by Justice Charles Chemutut in Kilifi.
Another 152 title deeds of parcels of land in Karura Forest registered in the names of companies whose owners could not be immediately established have been revoked.
One of the companies known as Saster Land Holdings has lost 22 pieces, which have been reverted back to the Kenya Forest Service. Meghji Shah & Sons Ltd has lost 20 while Silk Investments Ltd has lost three.
ROAD RESERVE
Safeway Hypermarkets, Regnol Oil Limited, Oilibya Petrol Station, Gulf Energy Petrol Station and Jogoo Road Outering Petrol Station, Nairobi, have also had their titles revoked and reverted to the national government for a road and road reserve.
In Uasin Gishu, the commission has revoked 16 title deeds and handed them back to the county government.
Cement manufacturer Athi River Mining, has also lost a piece of land in Kilifi to Abdulrahaman Omar Yunus Bashir.
Source link-nation.co.ke
Hundreds of title deeds revoked in cleanup of land records