Mutua 24% ahead of Ndeti in Machakos, Governor's support dropping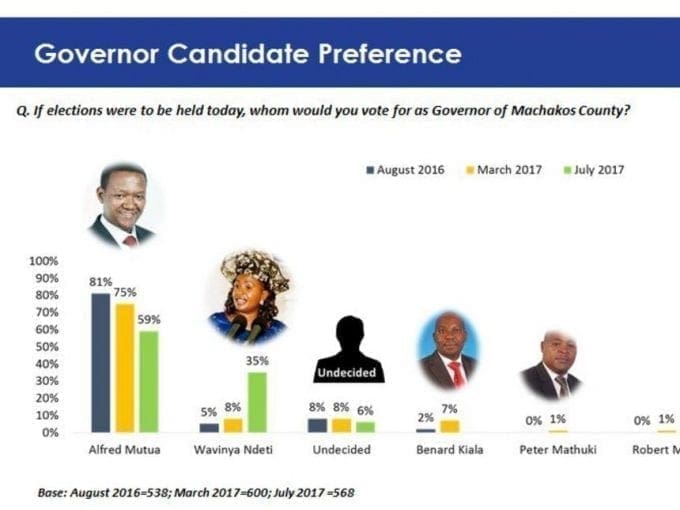 Machakos Governor Alfred Mutua's support base has declined significantly but he is still ahead of Wiper candidate Wavinya Ndeti, a poll has found.
The TIFA research showed the incumbent's popularity has declined from 81 per cent last August to 75 per cent in March and 59 per cent in July.
Ndeti's support has increased from five per cent in August 2016 to eight per cent in March and 35 per cent in July.
The survey which was conducted before Bernard Kiala dropped his bid for governor gave him a seven per cent rating.
Kiala withdrew from the race and declared support for Ndeti on Sunday.
The Deputy Governor noted the move was for the sake of promoting a NASA win in the presidential race.
"After much consideration and consultation with leaders in the community and our supporters I have agreed to withdraw from the race," he told a press briefing.
A poll in March found Mutua would be re-elected if elections were held then. He got a 75 per cent approval rating and was followed by Ndeti at eight per cent.
But when Ndeti joined Wiper in April, party leader Kalonzo Musyoka said she is likely to be the county's first female chief.
The politician teamed up with outgoing East Africa Legislative Assembly member Peter Mathuki in the race for the highly contested seat.
She returned to the party she quit in 2013 after losing to Mutua, who was elected on a Wiper ticket but quit to form Maendeleo Chap Chap.
TIFA further found NASA leader Raila Odinga would get 61 per cent votes and President Uhuru Kenyatta 37 per cent. One per cent of the sampled population had not made their decisions.
The residents feel closest to NASA (57 per cent) followed byJubilee Party (22 per cent) and Maendeleo Chap Chap (nine per cent) while 11 per cent were undecided.
Fifty eight per cent Machakos residents have not yet decided who they will pick for Senator. Seventeen per cent would elect Boniface Kabaka and 12 per cent Mutua Katuku.
Twenty nine per cent do not know who they will choose for the woman MP seat, 31 per cent said they will choose Joyce Kasimi and 16 per cent Susan Musyoka.
The research was conducted between July 20 and 24 through face to face interviews with 568 adults. It had a margin of error of+/- per cent.
Source link-the-star.co.ke