Nkaissery's Military Career was Quite Impressive… Here's His CV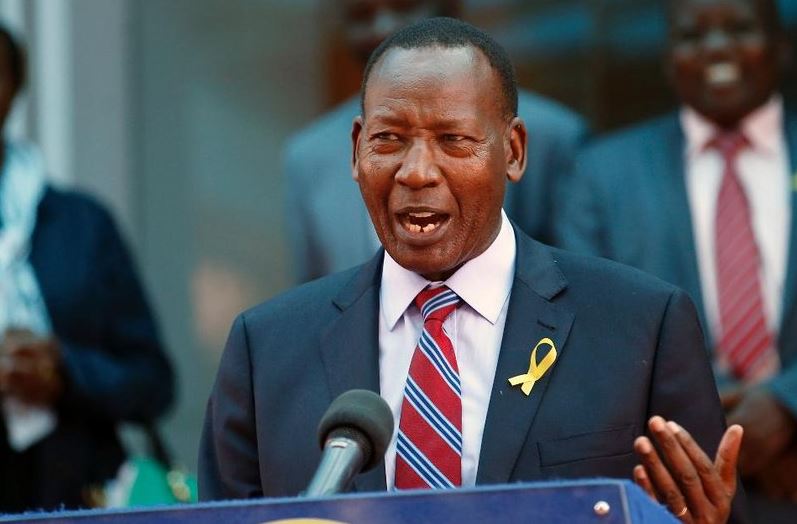 He was referred to as General Nkaissery, but until his death, not many Kenyans knew of his decorated military career.
The country was on Saturday shocked to learn of the passing of General Joseph Kasaine Ole Nkaissery. He appeared perfectly healthy a few hours prior, even attending a prayer rally at Uhuru Park with the president. According to many who spoke to the media, Nkaissery did not show any signs of ill health, which made his passing all the more surprising.
For a man who reportedly took a morning run every day, a heart attack is not something very likely. Especially not a fatal one. He appeared fit as a fiddle with neither a pot belly nor excess body fat – a sharp contrast to other senior ranking government officials his age.
That and the fact that the election is less than a month away has led to the endless speculations over what may have caused his death.
It has been reported that he had a few beers at Bomas of Kenya on Friday night, and investigators were sent there to find any evidence that may point to anything other than natural causes.
An autopsy will be conducted today by the government pathologist and a family-appointed pathologist. Like with other past high profile deaths in the past, it is unlikely that the public will be told anything other than the official narrative of a heart attack.
Though not everyone's cup of tea, General Nkaissery was credited with restoring security in the country, and a feeling of safety among Kenyans, particularly where terrorists are concerned. He was brought in at a time of constant Al Shabaab attacks, not only in the border regions but also in Nairobi and other densely populated areas.
Since he came in, the attacks have been far between, and though sometimes extremely lethal, Kenyans feel a lot more safer.
Nkaissery, unlike his predecessor, was able to stamp his authority immediately and organize operations at the Interior Ministry. He owes a lot of his success to his time in the military.
For many years, Nkaissery was a very high ranking member of the armed forces, reaching the rank of Major General.
His CV gives you a sense of the man we just lost.
*********************************
Born – November, 28 1949. Full name – Joseph Kasaine Ole Nkaissery
Education
1960 – 1966 Primary school student
1967 – 1970 Secondary school student
1971 – 1972 Student of Kenyatta College (dropped out)
1985 – 1986 Student of Defence Staff College (B Ed, (Pioneer Class) dropped out)
1996 – 1997 Student of United State Army War College (International fellow programmes)
Political Positions
March 10, 2013 – December 2, 2014 MP for Kajiado Central
February 13, 2013 – 2014 – Coalition member of Coalition for Reforms and Democracy
2007 – 2014 MP for Kajiado Central of Orange Democratic Movement
December 18, 2014 – July 7, 2017 – Cabinet Secretary for Interior and Coordination of National Government of Ministry of Interior and Coordination of National Government
December 2002 – Commandant of Armed Forces Training College and GOC Westcom
1999 – 2002 – GOC Western of Kenya Army
1997 – 1998 – Deputy Commandant/Chief Instructor of Kenya Army
1994 – 1996 – Brigade Commander of Kenya Army
1992 – 1993 – Chief of Personnel of Kenya Army
1987 – 1991 – Military Assistant to the Chief of General Staff of Kenya Army
1986 – Battalion Second in Command of Kenya Army
1982 – Combat Instructor of Kenya Army
-nairobiwire.com