Pollsters differ on Uhuru, Raila support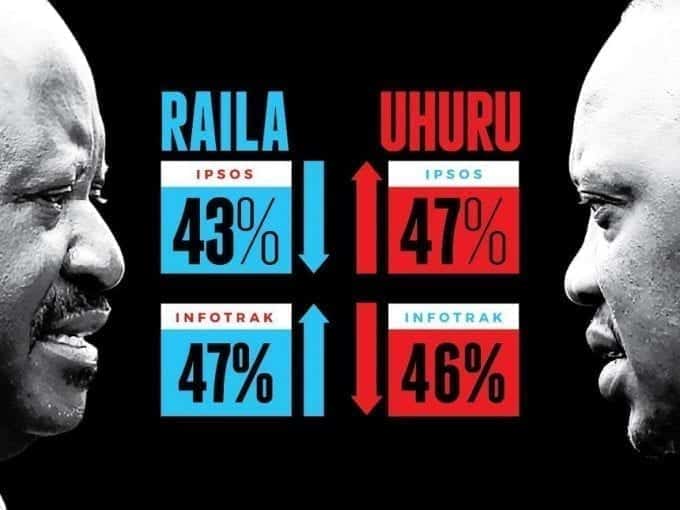 THERE is a sharp contradiction between the country's two leading opinion pollsters over who between President Uhuru Kenyatta and opposition chief Raila Odinga will emerge winner on August 8.
Leading opinion poll firms Ipsos and Infotrak yesterday gave conflicting figures on Uhuru and Raila's approval ratings in two separate polls conducted over almost the same period and in 47 and 31 counties, respectively.
The variance comes barely 14 days before Kenyans go to the ballot to vote in their leaders.
Ipsos yesterday put President Uhuru Kenyatta ahead with 47 percent against Raila's 43 percent, with five percent of the voters not yet decided on who they will vote for next month. This poll had a 2.09 per cent margin of error.
Only hours after Ipsos released its findings, Infotrak also released its presidential popularity report, giving Raila a razor-thin margin of 47 per cent against Uhuru's 46 per cent, with six per cent of voters still undecided.
This poll had a margin of error of 2.19 per cent and a 95 per cent confidence level.
The two polls do not give either of the presidential candidates a straight win in the first round, but indicate that whoever is able to sway the undecided voters could carry the day in round one.
Both polls cited Western Kenya as leading in the number of undecided voters. Western is however considered a NASA stronghold if the voting trends of 2013 are maintained.
Ipsos Research analyst Tom Wolf said the five per cent undecided translate to 980,000 voters, and 14 per cent come from Western, followed by Eastern and Nyanza at six per cent each.
Coast's undecided is at five per cent of the total of the unsure. Rift Valley forms four per cent, Nairobi three per cent and Central one per cent in the Ipsos survey.
From the Infotrak survey, the bulk of its 1,176,000 who are yet to decide on a presidential candidate come from Western, at 17.8 per cent, followed by Nairobi at 9.5 per cent and Eastern coming third at 6.9 per cent.
Northeastern, Nyanza and Coast followed with 4.6, 3.8 and 3.6 per cent, respectively.
Apart from Western, Nyanza and Coast, which are opposition zones, Nairobi's undecided population can go either way, and will depend on the strategy the two frontrunners employ to tap on the crucial hanging votes.
Eastern is also unpredictable, and neither of the two candidates can lay claim to the undecided population.
Upper Eastern is under the tight grip of Uhuru's Jubilee Party, while the Lower part, and mainly Ukambani, is a NASA bedrock.
"The election can be won on the first round by whoever will convince the undecided voters on his side," said Infotrak CEO Angela Ambitho.
Last week, Radio Africa Group released a poll indicating Raila closing a gap with President Uhuru, but neither of them had enough numbers to avoid a runoff.
The survey shows that Uhuru would lead the presidential race by 49 per cent against Raila's 44 per cent, with seven per cent of Kenyans still remaining undecided.
Also last week, NASA's own opinion poll, conducted by international US pollster John Zogby, indicated Raila will defeat President Uhuru in the race for State House with only one per cent separating the two politicians.
The poll, released via teleconferencing at a Nairobi hotel, had Uhuru scoring 46.7 per cent while Raila will win with 47.4 per cent of the 19.6 million votes.
Both Wolf and Ambitho's research findings also presented two parallel sets of figures on which political formation between Jubilee and NASA is more popular amongst the country's voting population.
Ipsos said Uhuru's Jubilee Party is more popular with Kenyans at 44 per cent than Raila's NASA, which had 42 per cent.
Ipsos also indicated that five per cent of Kenyans are undecided on which political outfit to align to 14 days to the election.
Infotrak on the hand indicated that both NASA and Jubilee have tied up at 50 per cent on party popularities.
Infotrak also had eight per cent of the 19.6 million registered voters not yet decided on which party to belong to.
The two pollsters also had conspicuous contradictions on Kenyans' take on the direction of the national economy.
Ambitho's findings put at 49 per cent those who are not happy with the direction the country has taken, two per cent above the 47 per cent of those who said the country is headed in the right direction.
Ipsos's survey had a whopping 61 per cent of Kenyans saying the country is headed in the wrong direction, with a paltry 27 per cent happy with the way the country is run.
In both cases, the majority of those who were unhappy with the direction the country had taken cited the high cost of living, rampant corruption and poor leadership for their reasons.
Those who are happy with the way the country is being run unanimously pointed at the ambitious infrastructural development undertaken by the Jubilee administration across the country.
The Ipsos poll also presented almost a neck-and-neck between Uhuru and Raila on the confidence levels. Uhuru had a 40 per cent confidence level from Kenyans, narrowly beating Raila, who attracted 39 per cent confidence.
Interestingly, Raila attracted more no-confidence votes at 34 per cent above President Uhuru's 28 per cent.
On the leading running mates, Kalonzo Musyoka narrowly beat Deputy President William Ruto in the confidence levels, polling 34 per cent against the DP's 33 per cent.
Ruto at the same time suffered a higher no-confidence vote from the Kenyans interviewed, with 40 per cent expressing they have no-confidence at all in the DP
Kalonzo recorded a 35 per cent no-confidence vote, five per cent less than Ruto's.
Ipsos's fieldwork was done between July 3-12 across the 47 counties, while Infotrak collected its data from July 16-22 across 31 counties.
Source link-the-star.co.ke