Tanzanian party endorses Uhuru, criticises Raila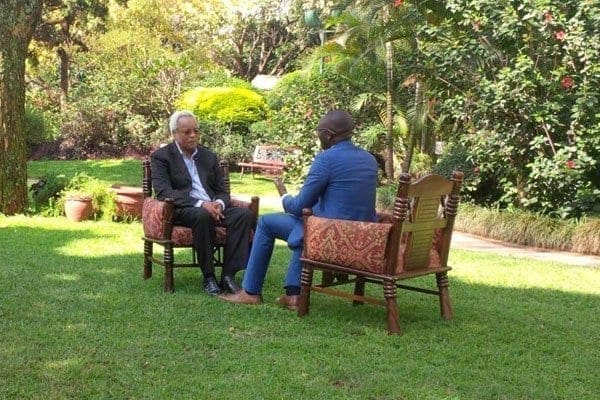 Sunday's endorsement of President Uhuru Kenyatta by the leader of the Tanzanian Opposition, Mr Edward Lowassa, is just the tip of the iceberg.
Below it is a cauldron of diplomatic intrigue, transnational politics and meddling, whose ultimate impact on the relations between the East African Community partners is still a matter of conjecture.
PEACE
One would have expected Ugandan President Yoweri Museveni, a wily 31-year survivor in the presidency with regional ambitions, to have the biggest influence on the Kenyan election.
Or even President Paul Kagame, who is given to strong-arm tactics but is admired for keeping the peace in a divided country and his effectiveness in development and impact in stamping out corruption in Rwanda.
RAILA/MAGUFULI
But no: the most impactful foreign leader on Kenyan politics and this election is President John Pombe Magufuli, the eccentric former minister for Roads whose 'bromance' with Nasa leader Raila Odinga has upended diplomacy and conduct of politics in the region.
On November 15, 2015 at the swearing in of President Magufuli, keen observers will have noticed that the assembled dignitaries gave Mr Odinga a standing ovation and warmth, which was not extended to the formal Kenyan government delegation, led by President Uhuru Kenyatta.
'STATE' VISIT
In April last year, Ikulu, the seat of the Tanzanian presidency, announced a visit by Mr Odinga, almost as if it was a State visit.
Mr Odinga, accompanied by his wife Ida and daughter Winnie, flew to the rural home of the Magufulis in Kilimani village, Geita Region, landing in a chopper at Chato Secondary School, where they were received by President Magufuli and his wife Janeth.
TALLYING CENTRES
The two families spent almost a week together.
The bond between the two leaders is tight, perhaps unlike anything the two countries have seen previously.
In June, the National Super Alliance announced the establishment of three tallying centres — one in Kenya, another in Germany and a third one in Tanzania.
Enquiries by the Nation's correspondents indicate that the centre may have been set up in the Kigamboni area with the blessings of the government of Tanzania.
Correspondents said Mr Odinga was in Dar es Salaam in May to finish the installation and set up a team to oversee it.
"Raila came to Tanzania last month and was seen hanging out in Kigamboni.
"Normally, when he is in Dar es Salaam, he visits a club called 777, but this time he opted to spend his leisure time in Kigamboni," the source said.
MUTINY
"We can't get into this now. Raila is on the campaign trail," Mr Odinga's spokesman Dennis Onyango said when contacted for comment.
Kigamboni is across the creek from Ikulu (State House) Dar es Salaam and has a compelling history.
Revered former President and liberation leader Julius Nyerere and his Vice-President Rashid Kawawa were spirited to Kigamboni and hidden there by Tanzania's secret services during the 1964 army mutiny that was crushed by British troops.
Because it is somewhat downtown Dar es Salaam, it is an attractive place for locating government business away from the public eye.
Officials in Dar es Salaam said the Kenyan Government has submitted an official complaint to Tanzanian authorities for allowing the Nasa team to set up its centre in Tanzania.
"It's true that the Kenyan Government has officially complained to Tanzania over the issue," one government official, who refused to be named, said.
FUNDING
The relations between the President and Mr Odinga have attracted quiet interest in the ruling Chama Cha Mapinduzi, but even more in the opposition, where dislike for Mr Odinga — whom Chama Cha Demokrasia na Maendeleo (Chadema) considers to have betrayed his 2013 supporters — is as vocal as is allowable in normally polite and restrained Tanzanian political discourse.
Many in the opposition believe that the purpose of Mr Odinga's visit to Geita last year, billed as a family holiday, was to "mobilise funding and political strategy" for this year's campaign.
ENDORSE
Recently Chadema Chairman Freeman Mbowe told the party's council meeting that after their assessment, they had concluded that Mr Kenyatta was the right candidate for presidency and a better choice for democracy in Kenya, views echoed almost word-for-word by Mr Lowassa on Sunday.
Mr Mbowe said Chadema was dismayed by Kenya's opposition leader, who supported Dr Magufuli during his presidential campaigns in the 2015 General Election.
When Mr Mbowe asked council members how they treat their friends' enemies, they responded in unison: "As your enemy," and broke into applause.
"We supported Raila Odinga during the 2012 elections in Kenya, but to our surprise and dismay, when it came to the 2015 polls in Tanzania, he supported the CCM candidate, Dr John Magufuli.
"Odinga betrayed us," Mr Mbowe said.
He commended Mr Kenyatta for "boosting democracy".
"Opposition leaders in Kenya haven't been jailed, let alone arrested arbitrarily."
However, Chadema party leaders did not give details of the nature of support they would give Mr Kenyatta, if any.
PREGNANCY
Tanzanian police last year banned political rallies, a move the opposition considers undemocratic and unwarranted.
Two weeks ago, Ms Halima Mdee, an MP, was arrested, allegedly for insulting the President after she criticised him for his support for a ban on schoolgirls who get pregnant.
She described him as "problematic" and questioned his competence.
COALITION
Earlier this month, Foreign Affairs and East African Cooperation Minister Augustine Mahiga denied reports that Tanzania was interfering with the Kenya elections in favour of Mr Odinga.
During the Tanzanian elections in October 2015, Chadema along with other opposition parties – CUF (Civil United Front), NLD (National League for Democracy), and NCCR-Mageuzi formed a loose alliance – Umoja wa Katiba ya Wananchi and fielded Mr Lowassa for the presidency in a contest billed as the closest presidential race in Tanzanian multi-party electoral history. He was beaten by Dr Magufuli.
EXPERTS
Like many Socialist societies, Tanzania is a land of many wise men: people who are respected and wield influence in the secret services, army, police and CCM, not because of their official positions, but because of their history in the service of the party and the country.
Some have served in the Central Committee of CCM, one of the most powerful organs in the country.
Many of these informed sources in private believe that Dr Magufuli would have found it extremely difficult to win the election without the support of an IT team that had set up a tallying centre at Double Tree Hotel in Dar es Salaam.
PR WORK
They also believe that Mr Odinga helped Mr Magufuli assemble the team.
The IT team apparently included experts from Germany, Israel, Kenyans and local Tanzanians.
Aside from offering IT expertise, it also offered public information and PR support.
STRATEGY
The programme was managed by Mr January Makamba, who was the head of the Magufuli election secretariat and is now minister for Environment.
A source privy to the inner workings of the Magufuli presidential campaign secretariat said the team also consisted of political strategists who shaped Mr Magufuli's campaigns, especially in crafting key messaging pillars.
The team was in Dar es Salaam between April and September that year.
"A monumental challenge that faced us was first to pocket the CCM nomination, Magufuli was not the one who in English is called a hot favourite," a Magufuli aide who requested anonymity told the Nation correspondent, and added: "That is when Magufuli asked for assistance."
FOREIGN FUNDS
On Sunday, Mr Makamba denied the existence of such a tallying centre, saying CMM only had a command centre, just like any political party.
He also said that it would have been illegal for the campaign to accept foreign assistance.
Mr Magufuli surprised many within CCM when he was picked as the compromise candidate.
Mr Lowassa, an earlier front runner, defected to the opposition.
At the Uhuru Stadium in Dar es Salaam during the swearing ceremony, President Kenyatta was given a warm but ordinary welcome reserved for leaders in the neighbourhood.
Mr Odinga, on the other hand, "looked very special because of his relationship with the President", an observer said.
PHOTOS
Neither was it lost on political observers that President Magufuli departed from protocol where the hosting president poses for a picture with each visiting Head of State and government.
In the case of Kenya he posed with both Mr Kenyatta and Mr Odinga.
-nation.co.ke