First Lady Margaret Kenyatta queues 4 hours to vote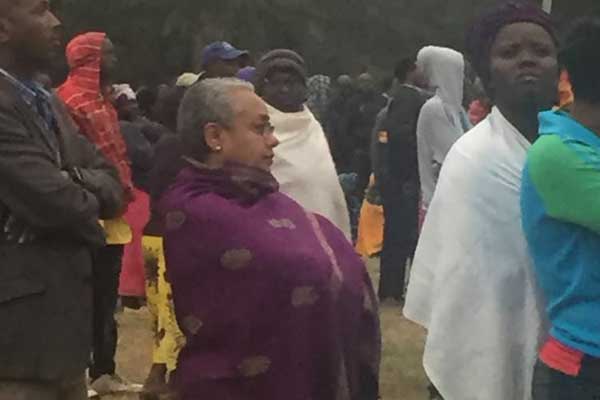 First Lady Margaret Kenyatta waited for fours to cast her vote in Nairobi's St Mary School polling centre, in Lavington, Nairobi.
Mrs Kenyatta braved a chilly morning and light showers as she waited patiently in the queue for her turn to vote.
Sources at the polling centre say she arrived at 5.45am, earlier than the official opening and left shortly before 10am soon after voting.
A picture of the First Lady wrapped in a purple and grey shawl, and black trousers standing patiently in the queue was posted on her Facebook account.
After casting her votes, the First Lady joined her husband, President Uhuru Kenyatta and family at Mutomo Primary School in Gatundu South constituency where the Jubilee Party candidate who is seeking a second term, voted.
Mrs Kenyatta later twitted in her official handle: "First Lady Margaret Kenyatta exercises her democratic right. Don't fear the queues. Go out and vote!#KenyaDecides."
Source link-nation.co.ke