KDF Spokesman Joseph Owuoth denies claims that he is missing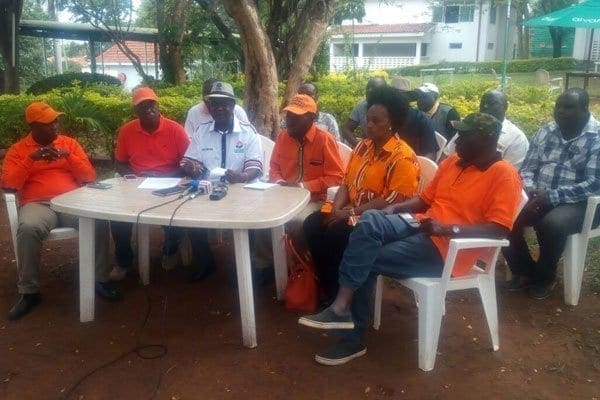 Kenya Defence Forces spokesman Joseph Owuoth has denied claims by his family and politicians that he is missing.
Col Owuoth on Tuesday told the Nation that he was OK and "working".
"I'm okay and I don't know where these reports are coming from. I'm okay and at work," he said.
LEAVE
His reaction came hours after his family claimed they could not trace him.
The family also claimed Col Owuoth had been sent on compulsory leave for confirming the authenticity of controversial military documents publicised by the opposition last week.
Earlier Tuesday, his sister Elizabeth told the Nation she last spoke to him by phone on Monday morning but could no longer reach him.
And when informed that the Nation hadtalked to her brother, Elizabeth said: "Where is he? Can you tell me where I can find him?"
She spoke a day after a group of opposition National Super Alliance (Nasa) politicians called a press conference to claim Col Owuoth had been suspended from office.
"He was sent on compulsory leave and ordered to go back to his rural Koru home," claimed Kisumu Senator Anyang' Nyong'o at a press briefing in Kisumu.
"He was in constant communication with the sister until yesterday when he was in Nakuru. Now the family cannot reach him," said Prof Nyong'o, who is running for Kisumu governor.
Despite reports that Col Owuoth was missing, his phone remained on and his WhatsApp account was still active by Tuesday morning even though messages sent to the line remained unanswered.
ROW
Col Owuoth planted himself in the middle of controversy after Nasa principals tabled documents alleging the military was planning an operation that could ensure Jubilee remains in power no matter the results of the elections.
The operation, according to the documents, includes shutting down electricity and water supplies to certain areas, deploying new recruits to control crowds, deploying regime-friendly commanders and other exercises the opposition claimed would see their supporters choose not to vote.
Col Owuoth later confirmed the documents were genuine but accused the politicians of quoting a legitimate operation out of context to gain political mileage.
Later, though, Defence Cabinet Secretary Raychelle Omamo disowned the documents, saying she had not seen them and that the KDF were not plotting anything outside the law.
Source link-nation.co.ke