Nasa hits out at Uhuru Kenyatta for summoning Parliament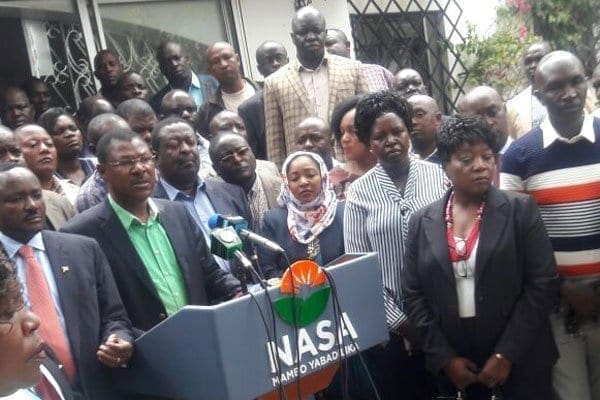 The opposition has criticised President Uhuru Kenyatta for calling the first sitting of Parliament Thursday next week despite a petition challenging the validity of his re-election.
National Super Alliance (Nasa) co-principal Moses Wetang'ula said Mr Kenyatta's move was in bad faith and meant to weigh down Raila Odinga's case at the Supreme Court.
MEETING
Addressing the press at Okoa Kenya offices in Nairobi on Friday, Mr Wetang'ula termed the decision by President Kenyatta as premature.
"It is in the Constitution that the president or the caretaker president has powers to summon Parliament for purposes of swearing in of members and election of the Speaker and Deputy Speaker, but we find President Uhuru's decision premature since there is a case in court challenging his re-election" Mr Wetang'ula said after meeting with MPs elected on Nasa- affiliate parties.
Friday's meeting was also attended by Nasa co-principals Kalonzo Musyoka and Musalia Mudavadi.
The top leadership of the opposition will meet on Tuesday next week to deliberate on whether or not the coalition MPs-elect should attend the first session of the 12th Parliament slated for Thursday.
CLERKS
Mr Wetang'ula said the coalition would from Saturday hold peaceful vigil outside the Supreme Court to pray for the matter.
"We will not allow computer-generated leaders to interfere with our democratic space, we will remain united and fight for a better democratic space in this country," Mr Wetangula said.
Their statement came hours after the Jubilee Party defended President Kenyatta's decision to call first sitting of Parliament, saying he acted within his mandate.
Separately, Clerk of the National Assembly Michael Sialai said Parliament has its own calendar and it has to sit within 30 days after a General Election
Mr Sialai said there is no vacancy despite the case lodged by the opposition at the Supreme Court.
THE LAW
Clerk of the Senate Jeremiah Nyegenye also told the Nation that there is no relation between the case at the Supreme Court and opening of Parliament.
"We have a president at the moment and that is in no doubt. The case has nothing to do with the swearing in of MPs," he said.
Article 126 (2) of the Constitution gives the President the power to appoint the place and date of the first sitting of the new House, which shall not be more than 30 days after the election.
Article 142 further clarifies that the president shall hold office for a term beginning on the date on which the president was sworn in, and ending when the person next elected is sworn in.
Source link-nation.co.ke