Nasa wins most seats in Coast Region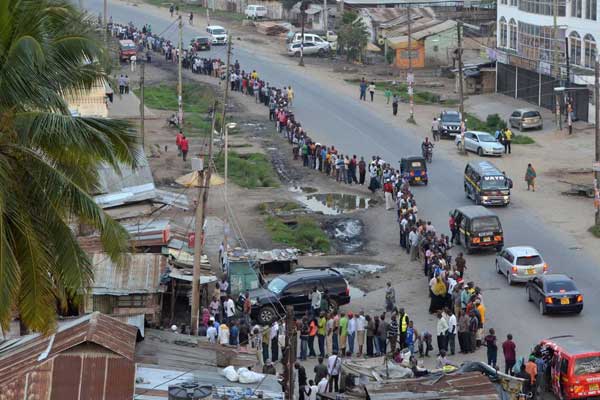 The National Super Alliance won most of the seats at the Coast in the August 8 General Election, cementing its popularity in the region.
Jubilee however made inroads in the region that overwhelmingly voted for ODM in the 2013 polls by winning the Kwale gubernatorial seat. Incumbent Governor Salim Mvurya who defected from ODM to
Jubilee after a fall out with the party, beat Wiper candidate Chirau Mwakwere and ODM's Issa Kipera to bag the seat.
LAMU
Jubilee further scooped the Lamu gubernatorial seat through former MP Fahim Twaha. Incumbent governor Issa Timamy who was elected on UDF ticket vied for the seat on Amani National Congress ticket and narrowly lost to his archival, Mr Twaha.
Wiper won the Taita Taveta governor's seat through businessman cum journalist Granton Samboja. Taita Taveta Governor John Mruttu who vied as an independent after losing in the ODM primaries came second.
Related Content
In Tana River, ODM's Godhana Dhado was set to be declared winner after trouncing governor Hussein Dado. Mr Dado was elected on Wiper ticket in 2013 but switched to Jubilee in the run-up to the Tuesday's vote.
KINGPINS
ODM's coast political kingpins Hassan Joho (Mombasa governor) and Amason Kingi (Kilifi) gave their opponents a hard beating, with provisional results indicating they were set to win with huge margins. The duo who are strong defenders of Nasa leader Raila Odinga and the Jubilee administration's harshest critics proved pundits wrong by showing the huge following they enjoyed.
Mr Joho usually describes himself as the Coast "Sultan," with his supporters regarding him as the region's spokesman.
Just like in 2013, Jubilee also lost all the top seats in Mombasa with majority of the MPs and the senatorial seat going to ODM. ODM also bagged all the MP seats in Kilifi, locking out Jubilee despite frequent forays by President Kenyatta and his deputy William Ruto to the county.
LUNGA LUNGA
Jubilee however also bagged the Lunga Lunga parliamentary seat through incumbent MP Khatib Mwashetani. Mr Mwashetani was elected on a Ford-Kenya ticket in 2013 before shifting allegiance to Jubilee. Coast long serving politician Ngozi Rai (Jubilee) however lost the Kinango parliamentary seat to Mr Benjamin Tayari of ODM.
ODM's nominated MP Zuleikha Juma was declared Kwale woman representative after trouncing Jubilee's Zainab Chidzuga. Ms Chidzuga is among top ODM lieutenants who defected to Jubilee but lost in the Tuesday ballot.
Others are Kilifi North MP Gideon Mung'aro who was vying for the gubernatorial seat on Jubilee ticket, Kilifi South MP Mustafa Iddi, Taita Taveta woman rep Joyce Lay who was vying for the senatorial seat and senator Dan Mwazo who wanted to be governor.
Jubilee's Naomi Shaban however reclaimed her seat by beating her opponent from Wiper with about 100 votes.
President Kenyatta's party also took the Taita Taveta woman rep seat through Ms Lydia Mizighi.
Jubilee also bagged the Lamu woman representative seat through Ms Ruweida Mohamed who trounced Ms Shakila Abdalla who was defending her seat on Wiper ticket.
Tana River woman rep Halima Ware who defected from Wiper to Jubilee also lost to Ms Rehema Hassan of MCCP.
Bura MP Ali Wario also retained the seat on Jubilee ticket after garnering 10, 459 votes.
ODM took the Mombasa senatorial seat through lawyer Mohamed Faki, Mr Jones Mwaruma (Taita Taveta) Mr Stewart Madzayo (Kilifi ), Issa Juma Boy (Kwale).
Jubilee won the Lamu senatorial seat through Mr Anuar Loitiptip and Mr Golicha Wario (Jubilee )was leading in Tana River.
The Nasa and Jubilee coalitions have been fighting for the control of the 1.7 million votes in the region.
Mombasa leads the six coast counties with about 580,223 registered voters, followed by Kilifi 508,068, Kwale 281,041 and Tana River (118,327).
Taita Taveta has 155,716 registered voters while Lamu has 69,776.
The region which overwhelmingly voted for ODM in the 2013 polls has been a battle ground for the Nasa and Jubilee. Kadu Asili and the Vibrant Democratic Party have also been trying to flex their muscles in the region.
The lack of a presidential candidate and the huge economic importance the region has for the country made it a priority for the top politicians.
Coast is key in the country's economy due to the Port of Mombasa, the Lamu Port, the Lamu Port South Sudan Ethiopia Transport corridor, the Sh200 billion coal plant in Lamu, various airports, tourism, vast land and minerals.
The coast also enjoys beach plots.
Mombasa also hosts Moi International Airport and is a key international gateway to the country.
Key presidential aspirants have been making frequent visits to the six Coast counties to win locals support.
The Jubilee Party supremos have been keen on dislodging their key critics in the region-Mr  Joho and Mr Kingi. Businessman Suleiman Shahbal and his running mate Anania Mwaboza were being fronted to dethrone Mr Joho while Mr Mung'aro who has poached Mr Kingi's deputy Kennedy Kamto to be his number two squared it out with the vocal lawyer.
Also in the race for the Mombasa gubernatorial seat was Wiper Secretary General Hassan Omar and Nyali MP Hezron Awiti.
In Kilifi, Mr Kingi is also faced a challenge from Kadu-Asili candidate Kazungu Kambi and independent candidate James Mangi.
In Kwale, Mr Mvurya (Jubilee Party) faced it out with former Cabinet Minister Chirau Mwakwere (Wiper), former Plan International boss Issa Kipera (ODM) and County Assembly Speaker Sammy Ruwa (independent) and James Gereza Dena (independent).
Apart from President Kenyatta and Mr Ruto who had been camping at the Coast nearly monthly to plead with locals to back them, Nasa principals Raila Odinga, Musalia Mudavadi, Kalonzo Musyoka and Moses Wetangula also made frequent forays to consolidate their support.
Land, insecurity, exploitation of minerals, national government projects like KPA, jobs and poverty played a key role in the campaigns.
Mombasa leads in the number of squatters at the Coast, followed by Kilifi, Kwale, Lamu and Taita Taveta and Lamu.
Land was also a key campaign issue at the Coast due to major Vision 2030 projects being implemented in the region including Lamu Port South Sudan Transport (Lapsset) corridor and Lamu Port.
-nation.co.ke