Televangelist Gilbert Deya deported, to spend six nights at Kamiti Prison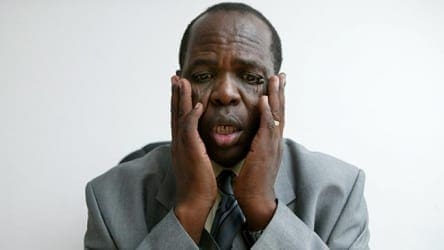 Televangelist Gilbert Deya of the 'miracle babies' infamy has been deported from United Kingdom to Kenya. He arrived at the Jomo Kenyatta International Airport at 4.40 am on Friday August 4, aboard a Kenya Airways flight. Deya was ordained by the United Evangelical Church of Kenya and styles himself "Archbishop". He was an evangelist in Kenya in the late 1980s to early 1990s, but moved to the UK, establishing Gilbert Deya Ministries in 1997. He is set to face child trafficking charges after being handed over to the Kenyan Authorities following accusations that he coordinated the trafficking of children, who his church would later present as 'miracles' for barren mothers.
Police also alleged that Deya stole five children between May 1999 and December 2004 from Pumwani Hospital to facilitate his 'miracle babies' project. In 2005, Mr. Deya's wife Mary Deya was handed a three-year jail term after she was found guilty of stealing a child from the Kenyatta National Hospital in Nairobi. Mary falsely claimed that the baby was hers, but it was later confirmed that she had stolen it.
On 13 December 2006, Mr Deya was arrested in London by the Metropolitan Police. A police spokesman said Gilbert Deya was detained under an arrest warrant issued by Kenyan authorities, who had charged him with child abduction and trafficking. He was ordered by a court on 8 November 2007, to be extradited from the UK to Kenya to face five counts of child trafficking.
Controversial preacher Gilbert Deya to spend six nights at Kamiti Maximum Prison
Controversial televangelist Gilbert Deya, 65, has been remanded at Kamiti Maximum Prison until Thursday next week when Chief Magistrate Francis Andayi will determine his bail terms. The choice of Kamiti was made by Deya himself following a judgement on extradition in the UK. Deya was deported from United Kingdom to Kenya and arrived at the Jomo Kenyatta International Airport (JKIA) at 4.40 am today (Friday). The controversial preacher is facing child-trafficking charges after it emerged he had deceived some of his followers that he had powers to cause infertile women to deliver miracle babies'.
The self-proclaimed Archbishop of Gilbert Deya Ministries allegedly through prayers, helped several sterile women in Kenya and Britain to give birth. His wife, Mary, was arrested in November 2004 in Nairobi and charged with stealing children. Ten children, none of whom had any genetic connection to the Deya family, were found at the couple's house in Mountain View estate. Kenyan police immediately sought the preacher's prosecution over child trafficking charges. A decade long warrant of arrest had been pending as Deya fought against extradition from Britain.
He had appealed against the extradition on grounds that he feared being tortured as well as facing the death sentence. The appeal was rejected on July 12 by a London Court.
Source link-standardmedia.co.ke