UhuruRuto seek divine intervention, call for peace ahead of tomorrow's polls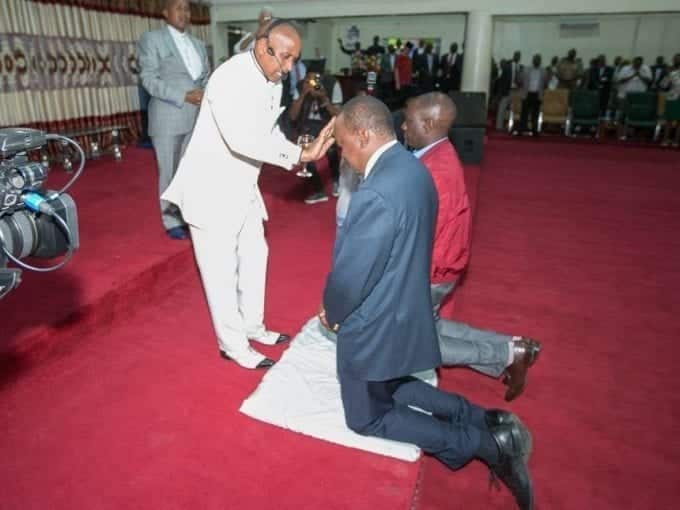 President Uhuru Kenyatta and his Deputy William Ruto have sought for divine intervention to re-clinch their respective seats as Kenyans cast their votes on Tuesday.
The two top Jubilee leaders attended separate church services in Nairobi where they prayed for their re-election and urged Kenyans to maintain peace during and after the General Elections.
Uhuru who will battle it out with NASA's presidential candidate Raila Odinga thanked the citizens for conducting peaceful campaigns and urged them to continue coexisting during the electioneering period.
Speaking at Jesus Winner Ministry in Roysambu Constituency, Uhuru urged the congregation to pray for their victory and peaceful elections.
"Let us pray for peace and I am requesting for your prayers as we head towards this final journey. There is no need to fight because of politics because everyone has the right to vote as directed and guided by God," said Uhuru.
He continued: "I thank God for being with us during the four years. We have had many obstacles but God has always been with us. We should pray as a Church for Him to see us through".
Ruto said that the country has witnessed new political revolution unlike the past, adding that the democracy in the country has been enhanced through prayers.
"Our democracy will win these elections and we are making a request to God to make this happen. By God's grace, we will have elections on August 8 but this will be a different one because democracy has entrenched in all parts of this country," said Ruto.
Presiding Bishop John Nduati of God's Power Church of Kenya urged Kenyans to vote wisely and peacefully to avoid violence akin to that witnessed in 2007.
Nduati who recently endorsed the President's re-election said citizens ought to live harmoniously and come out in large numbers to vote for progressive leaders.
"We have an obligation as a church to lead this nation to the right path. Uhuru has proved to be a good leader and it is the right time we voted for this anointed leader," said Nduati.
The Presiding Bishop reiterated that he has been an ardent supporter of the Jubilee Party and called on his congregation to pray for Uhuru and his Deputy.
Uhuru and Ruto attended a service at Deliverance Church Umoja where they continued preaching peace ahead of the polls.
Uhuru said: "You have been good neighbours and I urge you to remain so regardless of your tribe, religion or political affiliation. Do not allow anything to put a wedge between you".
Bishop J.B. Masinde, the founder of Deliverance Church Umoja, conducted the special service and also delivered the sermon at the first service while Bishop Edward Mwai the founder of Jesus Winner Ministry did the same at the second service.
The duo were accompanied by several leaders eying for various political positions.
Source link-the-star.co.k