Supreme Court quashes Uhuru Kenyatta's re-election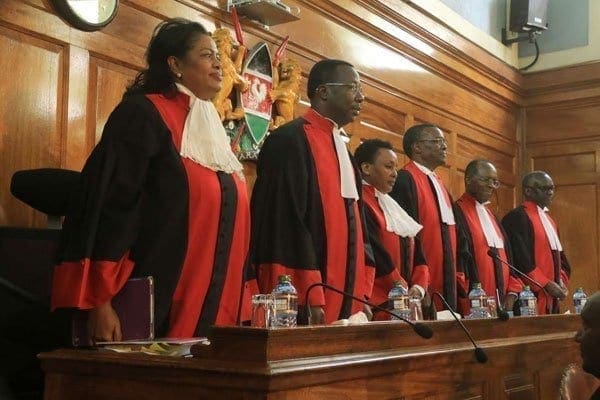 The Supreme Court has nullified the re-election of President Uhuru Kenyatta.
A six-judge bench, by majority decision, on Friday indicted the Independent Electoral and Boundaries Commission (IEBC), saying it conducted the elections contrary to the dictates of the Constitution and poll laws.
4 JUDGES
Chief Justice David Maraga agreed together with Deputy Chief Justice Philomena Mwilu, Smokin Wanjala and Isaac Lenaola that the electoral body messed up transmission of poll results.
"A decision is hereby issued that the elections held on August 8, were not conducted in accordance with the Constitution and the applicable law. The results are therefore invalid, null and void," Chief justice David Maraga said.
"Elections is not an event but an process. After considering the totality of the entire evidence, we are satisfied that the elections were not conducted in accordance to the dictates of the Constitution and the applicable principles."
Judges Jackton Ojwang and Njoki Ndung'u dissented while judge Mohammed Ibrahim, who fell ill on the second day of the case hearing, did not take part in the decision because he is still in hospital.
LAWYERS
Justices Ojwang' and Ndung'u said the petitioner, National Super Alliance (Nasa) leader Raila Odinga, had failed to prove claims that the polls were rigged in favour of Mr Kenyatta.
The two said the polls were free, fair and credible as described by international observers.
Justice Ndung'u said challenges face every election and if they occurred, they were not deliberate or in bad faith.
The top court in Kenya, in a bold move, ordered the
–