Anti-IEBC demos banned in Nairobi, Kisumu, Mombasa CBD – VIDEO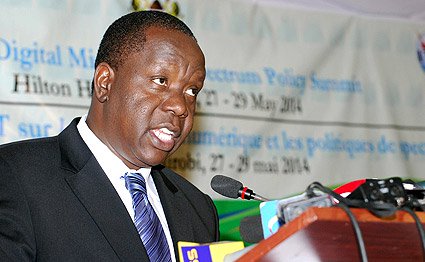 The government has outlawed anti-IEBC demos in central business districts of Nairobi, Mombasa and Kisumu.
Citing Public Order Act, Interior Acting CS Fred Matiangi on Thursday said the ban was aimed at protecting Kenyans and their property.
RIGHTS
Dr Matiang'i cited Section 56 of the Public Order Act in making the decision even as he insisted that his order does not curtail the right of National Super Alliance (Nasa) supporters to demonstrate and picket.
He said the ban followed a National Security Advisory Committee meeting and that it "was due to the clear and imminent danger, for the time being".
Dr Matiang'i said he had also met the Kenya Private Sector Alliance that he said complained to him about the demos and their effects.
"We cannot go on this way. It is unfortunate to see people's cars being smashed, property being destroyed in the guise of a peaceful demonstrations. We must respect the law," he said.
REFORMS
Nasa leaders and their supporters have been taking to the streets of major towns in Kenya thrice a week and on Wednesday, they had vowed daily protests from next week.
The opposition says the demos are aimed at pushing for systems and personnel reforms at the Independent Electoral and Boundaries Commission (IEBC).
The alliance wants the changes— including firing of 11 top officials accused of bungling August 8 poll, dropping of Dubai-based ballots printer Al Ghurair and French technology supplier OT-Morpho— effected before repeat presidential election.
IEBC on Wednesday the election would proceed as planned on October 26 despite Nasa leader Raila Odinga's withdrawal, a move the commission said was yet to meet statutory and legal requirements.
Mr Odinga bowed out of the race citing refusal of IEBC to implement reforms to guarantee "a free, fair, credible and verifiable election".
At the same time, the CS has said that the government would charge Nasa Chief Executive Norman Magaya for calling the demos that turned chaotic on Wednesday.
LOOTING
Some businesses were looted and property destroyed during the protests in Kisumu and the capital Nairobi.
"We shall prefer charges against him because he is the one that called the demos, after we have quantified the extent of the damage," Dr Matiangi told journalists at Harambee House in Nairobi.
The CS called on traders who lost their property during the demos to record statements with the police.
He said that the law requires one to notify the police of the demos, its route, its purpose, and await a response allowing it or turning it down, before proceeding for them.
Mr Magaya did comply with the law, the CS said.
Source link-nation.co.ke