Intermarry to end conflict, Nyong'o, Chepkwong tell Luos and Kalenjins
Intermarry to end conflict, Nyong'o, Chepkwong tell Luos and Kalenjins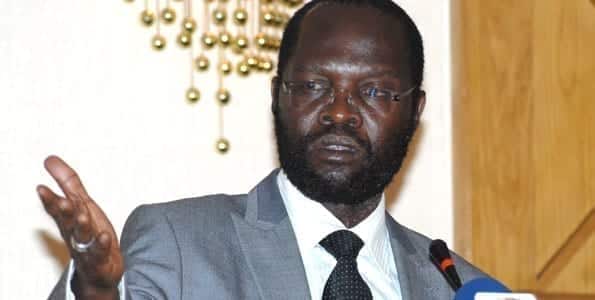 Governors Anyang Nyong'o and Paul Chepkwony have urged Luos and Kalenjins to take steps including intermarriage to achieve process.
The Kisumu and Kericho county chiefs told their communities they should embrace peace for the sake of development.
Their calls followed a clash at the borders of Kericho and Kisumu on Friday.
Nyong'o and Chepkwony further asked their people to preach peace and unity.
The Kisumu boss said the two communities should not engage in conflicts as they will only lead to death and loss of property.
"We need to peacefully co-exist. We need each other to do business so as to grow economically," he said on Saturday during a peace meeting in Kericho town, that ward representatives also attended.
Nyong'o noted tangible development cannot be realised without peace.
He also asked the two communities to embrace intermarriage to help reduce conflicts at the border.
Kisumu assembly speaker Onyango Oloo also called for peace and an end to associations limited by political affiliations.
"It is time to develop the two counties. This can only be achieved when communities engage in activities that can spur growth."
Chepkwony called for good relations among Kalenjins and Luos, saying they have no reason to fight each other as they can steer development when they cooperate.
"As Governors of the two counties, we are determined and focused to unite our people to avoid loss of lives and property."
"TIME TO BUILD KENYA"
Governors Jackson Mandago of Uasin Gishu and Stephen Sang of Nandi have also pushed for peace and asked the public to return to work.
They noted the country should not face economic decline following the dispute featuring President Uhuru Kenyatta and NASA leader Raila Odinga.
The county bosses also asked Kenyans in parts where violent protests took place to calm down and let IEBC complete the election process.
Mandago said the NASA should stop agitating for civil disobedience and economic sabotage because communities and sectors in the country rely on each other.
"We have wasted too much time. It's time we go back to work. The county governments should resume full operations to offer services to the public and implement projects," said Mandago.
He spoke at a press briefing in Eldoret on Friday, where leaders from the county explained why there had been what they termed a marginal drop in voter turnout.
Uasin Gishu Senator Margaret Kamar, who read the leaders' statement, said they attained an average turnout of  60.5 per cent, which she termed satisfactory considering factors surrounding the poll.
MPs Caleb Kostany (Soy), Oscar Sudi (Kapseret), William Chepkut (Ainabkoi), Janet Koech (Turbo) and Swarrup Mishra (Kesses) also attended the meeting.
Speaking separately in Kapsabet, Sang said the region had an average voter turnout of 65 per cent.
He noted chaos in Nyanza region may affect peace and security at the border of the counties.
"We urge leaders from Kisumu county to be very careful in the way they handle the election dispute in the region because any inflammatory statements may cause problems," he said.
The Governor further noted peace should prevail so Kenya is united and that youths should not be incited to engage in violence.
Sang said the election process went on smoothly despite the boycott in some areas and that Uhuru should be sworn-in quickly so he can steer the country to normalcy.
Source link-the-star.co.ke