Jimi Wanjigi now sues Joseph Boinnet and Keriako Tobiko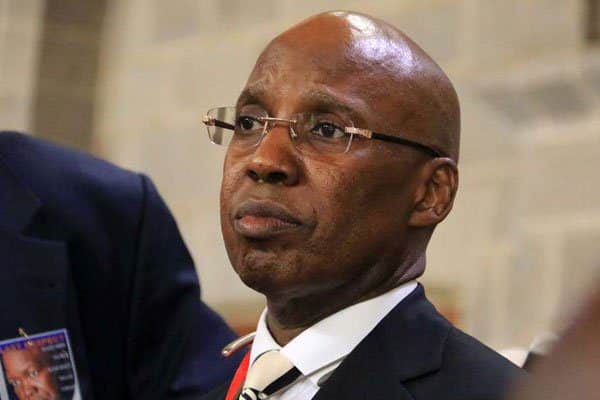 Businessman Jimi Wanjigi has moved to court to stop his imminent arrest.
Jointly with his wife Irene Nzisa, Mr Wanjigi on Tuesday sued Inspector-General Joseph Boinnet and Director of Public Prosecutions Keriako Tobiko.
BAIL
In suit papers, he has protested police raid on his homes in Malindi and Nairobi without search warrants.
The siege on his Muthaiga home, which started on Monday morning, was still ongoing by Tuesday afternoon.
Though lawyer Jackson Awele, Mr Wanjigi wants to be admitted to anticipatory bail pending any threatened arrest or charge by the government.
He also wants the court to stop any further trespassing, breaking or entering into his private residences or offices.
While a Nairobi magistrate court on Tuesday morning issued a search warrant allowing the police to search his residences and offices, he claims the officers do not have the said warrant.
He also denies knowledge of the cache of firearms, which was allegedly found in his Malindi home on Monday.
'ANGUISH'
He argues that the gun find and other allegations have been conveniently framed by police and other state agents to embarrass him.
The accusations, he says, are meant to settle a political score.
The businessman alleges that there is no legitimate ground for searching his premises or preferring a criminal charge against him.
He accuses police and the government of subjecting him to "untold mental as well as psychological anguish" for the last three months.
Mr Wanjigi says his life has been threatened, he has been trailed and that his right to privacy has been infringed.
"Mr Wanjigi is a law abiding citizen, a renowned businessman with vast commercial interests and is willing to comply with any bail or bond terms granted by court," said Mr Awele.
"It is only fair in the circumstances that this court expeditiously hears this matter to preserve Mr Wanjigi's rights."
Source link-nation.co.ke